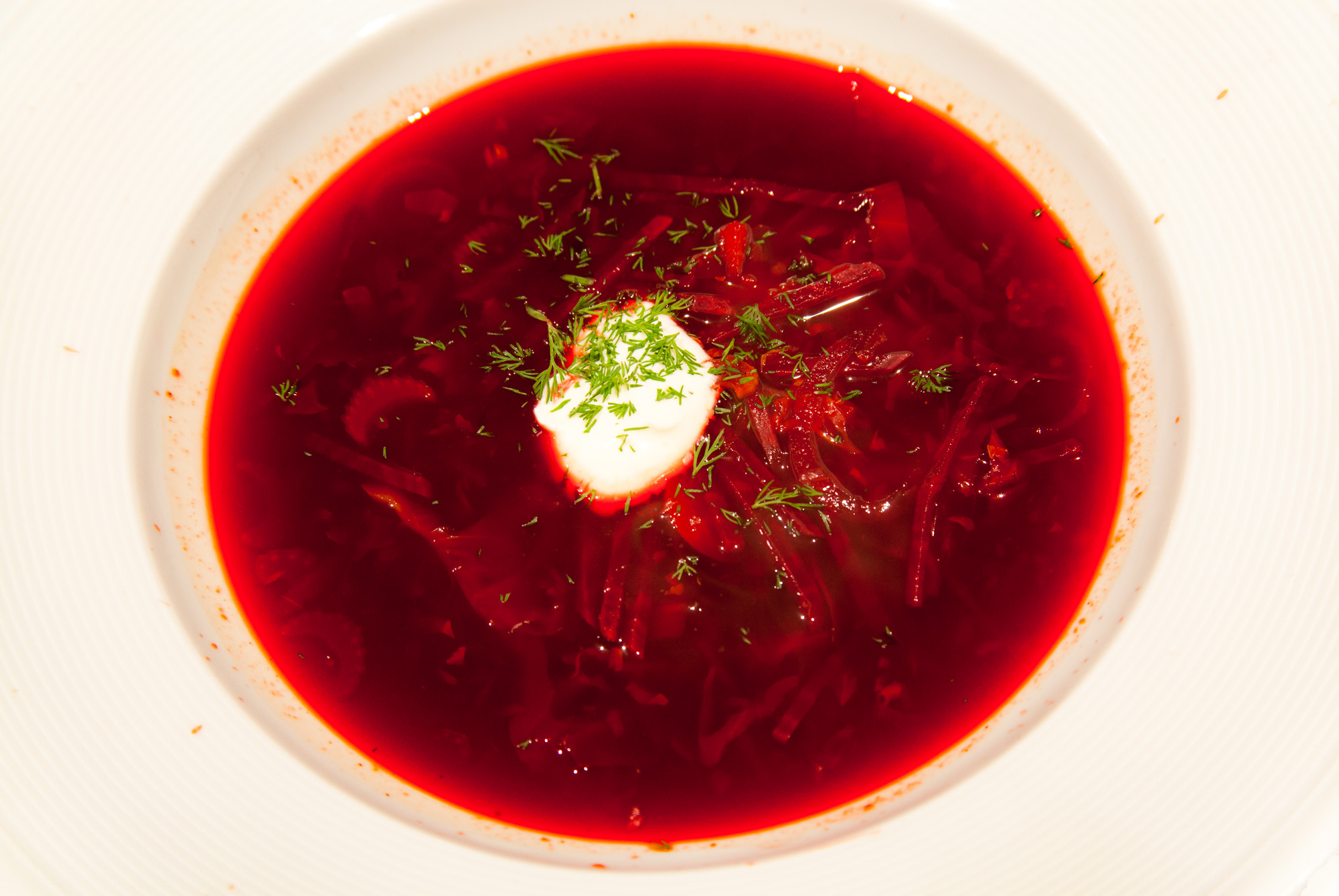 Borscht
Mark brought this to me after he first tasted imperial borscht at the elegant Russian Tea Room in New York City. This recipe is derived from theirs. There are many variations on borscht, but this recipe is the one I return to again and again. It is best if you make your own Kvass. Word of caution, beet stains are nearly permanent and expect some splashes at your table. ~Joanna
Great red Russian soup.

Yield 8 servings

Ingredients

1 1/2 cups julienned fresh beets
2 cups kvass
4 cups beef consommé
1 cup tomato sauce
1 1/2 cups shredded cabbage
3/4 cup thinly sliced celery
3/4 cup shredded carrots
3/4 cup thinly sliced onions
1 tablespoon sugar
2 teaspoons red wine vinegar
1/4 teaspoon salt
1/4 teaspoon freshly ground black pepper
Garnish:
2 teaspoons chopped fresh dill
6 tablespoons sour cream
---
1
In a pan, mix consomme, kvass, tomato sauce, cabbage, celery, carrots, onions.
---
2
Bring it all to a boil for 10 minutes. Skim off any foam.
---
3
Add sugar and beets, simmer for 20 minutes.
---
4
Add vinegar, salt, and pepper.
---
5
Ladle into wide soup bowls and garnish with chopped dill and a dollop of sour cream in the middle of each bowl.
---
---
notes Beef consomme and beef stock are not the same thing. Use consommé which is clear, not beef stock which is cloudy and heavier in taste. Kvass is not essential but it makes for a mature soup; instead simply use water. If you do not have time and want something that tastes like kvass, substitute a mix of 2/3 wheat beer and 1/3 white wine to the portion you need.
Instead of dill, some people use marjoram or lovage
---