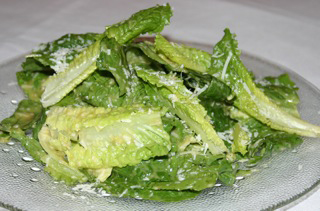 Caesar Salad
Classic Caesar Salad is made with the convenience of anchovy paste, readily available in grocery stores. To make it with anchovies, toss out their shipping oil and reconstitute by soaking in fresh olive oil. For a modern variation see Kale Caesar Salad.


Yield 4 servings

Ingredients

1 clove garlic, minced
1/8 teaspoon salt
1 teaspoon Dijon mustard
3 tablespoons lemon juice
1/2 teaspoon Worcestershire sauce
freshly ground pepper, to taste
1 teaspoon anchovy paste
1/4 cup olive oil
1 egg
1 large head Romaine lettuce, washed and dried
1/4 cup grated Parmesan cheese

OPTIONAL:
1/2 cup croutons
8 boquerones (marinated white anchovies)
---
1
Heat a small pan of water to boiling. This will be used for your egg.
---
2
Meanwhile, mash garlic with salt in a large wooden or glass bowl. Add mustard, lemon juice, Worcestershire sauce, pepper, and anchovy paste. Whisk until smooth.
---
3
Whisk in olive oil until emulsified.
---
4
Lower egg into boiling water for 1 minute, then quickly crack and whisk egg into dressing mixture.
---
5
Add lettuce and most of the cheese and croutons. Toss to coat lettuce with dressing. Top with reserved cheese, and optional croutons and boquerones. Serve immediately.
---
---