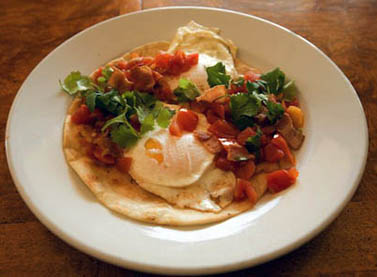 Huevos Rancheros
Quests are an impossible journey in pursuit of something that might be unobtainable. Nevertheless, they are good to rule the spirit from time to time. In college, friends and I drove the "Trans-Texas Marathon," a road trip across the entire Southwest which is mostly Texas. My quest was to eat only Huevos Rancheros to find the best. I found many ways to make this dish - some sauces are green, some are harshly spicy, and others are almost Italian. Sometimes what you search for is in your own back yard; mine was in San Antonio, Texas, and this is the recipe of a young Mexican bride. I have added refinements dedicated to her honor and the art of Huevos Rancheros. This sauce can be served immediately or cooked for hours covered for when the ranch hands show up. I like it both ways: quick cooking is bright; long and slow has a deeper flavor. ~Mark


Yield 4 servings

Ingredients

4 slices thick-cut bacon, coarsely chopped (or use 1 tablespoon vegetable oil)
2 jalapeños diced (less, if too hot)
2 cups chopped onion (1 medium)
1 teaspoon ground cumin
1/2 teaspoon ground coriander
2 teaspoons chopped fresh oregano (half the amount if dried)
1 teaspoon freshly ground black pepper
2-1/2 cups coarsely chopped tomato, peeled
4 tablespoons chopped tender cilantro stems
2 teaspoons finely slivered lemon skin, yellow part only
3/4 cup water
1/2 cup cilantro leaves, coarsely chopped, plus more for garnish
1 tablespoon lemon juice
2 tablespoons neutral oil
8 corn tortillas, plus more for serving
1 tablespoon butter
8 eggs
---
1
In a skillet over medium-low heat, fry bacon until it begins to brown - do not let it get crispy.
---
2
Lower heat. Add jalapeño and onions. Cook until onions are tender.
---
3
Add cumin, coriander, oregano, and black pepper. Stir for 1 minute.
---
4
On medium heat, add tomato, cilantro stems, and lemon zest. Add water. Cover with lid. Cook and stir, 5 minutes. Remove lid.
---
5
Reduce heat to a low simmer. Stir and taste for seasoning. If it is not spicy enough, add a bit more jalapeño. Cook for 10 minutes, occasionally pressing down tomatoes until sauce is smooth.
---
6
When the sauce is cooked, stir in cilantro leaves and lemon juice.
---
7
Meanwhile, in a non-stick pan, heat oil and fry tortillas for 1 minute on each side. Put one or two tortillas on each plate and keep warm.
---
8
In the same non-stick pan, melt butter and cook eggs sunny side up. Yolks are traditionally runny in this dish.
---
9
Place a cooked egg on each tortilla. Spoon sauce over eggs. Garnish with cilantro leaves. Serve with additional warm tortillas.
---
---
notes NOTE To warm additional tortillas, set oven to 250°F. Place tortillas in a tortilla warmer or between two plates that have been sprinkled with water.
---