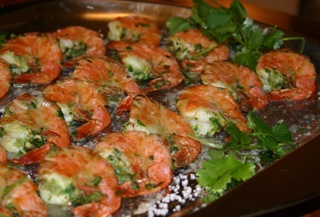 Spicy Prawns on a Bed of Sea Salt
This recipe was inspired by my visits to Guayma's, a great Mexican restaurant on the water in Tiburon, CA (now closed). I was thrilled to find one of my favorite flavor combinations (lime, cilantro and chiles) used in a cooking method for prawns that I have come to love. The prawns have a juicy, roasted quality and the bed of salt imparts just a hint of salty flavor, not overpowering at all. The method of cooking on coarse salt is commonly used in Brittany, home of the world's best sea salt. For a French version of this dish, see Prawns on a Bed of Sea Salt.


Yield 4 servings

Ingredients

2 pounds large prawns, in their shells
4 tablespoons vegetable oil
4 tablespoons coarse sea salt
1/2 teaspoon cumin
2 jalapeño pepper, minced
4 tablespoons lime juice
1/2 cup cilantro, chopped
1/4 teaspoon freshly ground black pepper
---
1
Combine oil, cumin, jalapeño, lime juice, cilantro, black pepper and prawns in a glass bowl, turning to coat.
---
2
Cover and refrigerate for 2 hours.
---
3
Preheat broiler and place rack 4 inches from heat source. Sprinkle salt over baking sheet and place prawns on salt.
---
4
Broil prawns for 2 minutes. Turn and broil for 2 minutes more.
---
5
Serve broiled prawns on a flat dish or direct on pan. Peel and eat.
---
---
notes If you have a serving dish that can go from broiler to table, use it instead of the baking sheet, as the bright red prawns sitting on the white salt makes a beautiful and unusual presentation.
---