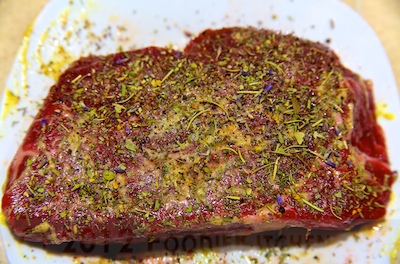 French Grilled Steak (Entrecôte)
This recipe was made for us by our friend, Michel Saloff-Coste and his son, Ulysses, while visiting us from Paris. The beef with the herbs has a sensational perfume that is best complemented by a full-bodied French wine. If you look closely at the top of the seasoned steak you will see purple lavender blossoms - part of the Herbes de Provence mix. To recreate a true bistro meal, serve with Oven French Fries.


Yield 4 servings

Ingredients

2 steaks, preferably rib-eye, 1 pound each, approximately 1 inch thick
2 tablespoons olive oil
4 teaspoons Dijon mustard
2 teaspoons freshly cracked black pepper
2 teaspoons coarse sea salt
2 tablespoons Herbes de Provence
---
1
Preheat a grill for high heat.
---
2
Brush olive oil on both sides of steak, then slather mustard all over. Sprinkle both sides with salt, pepper and herbs.
---
3
Grill to medium rare, turning once, about 7 minutes total.
---
---
notes Use market bought or make your own
Herbes de Provence.
Ribeye has more fat, which provides a lot of flavor, but also means your steak will have some waste, so if you are unsure of the size to buy, err on the side of a larger steak. New York Strip is also a successful cut that works in this style. Left-over steak provides a great indulgence the next day for a breakfast of fried eggs with steak on the side!
---