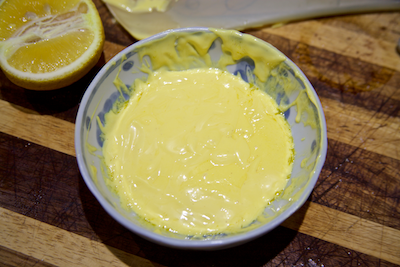 Blender Hollandaise
Required to top Eggs Benedict, this sauce is also superb on steamed vegetables such as asparagus or broccoli.


Yield 4 servings

Ingredients

4 egg yolks
1 teaspoon boiling water
1/2 pound unsalted butter, melted, kept warm
1-1/2 tablespoons fresh lemon juice
1/4 teaspoon white pepper
1/4 teaspoon salt
---
1
Place yolks in a blender, cover, and run on low speed for about 1 minute. Then slowly add boiling water, butter, lemon juice, white pepper, and salt. Turn to next higher speed if needed. Blend just until thick and creamy.
---
2
Use immediately. If you must hold the Hollandaise, keep it warm by placing sauce in the top of a double boiler with water barely simmering. Gently stir every so often to maintain creamy consistency.
---
---
notes Note on Variations - Hollandaise is the base for many favorite sauces, simplified here:
- Bernaise sauce - Add 1 tablespoon fresh tarragon finely chopped to Hollandaise.
- Cayenne sauce - Add 1/2 teaspoon of cayenne pepper in place of of white pepper.
- Mousseline sauce - Whip 1/2 cup heavy cream and fold into sauce before serving.
- Maltaise sauce - (for asparagus) Boil down skins and juice of 1 orange for about 15 minutes. Mix in 1 tablespoon sugar, and mix into sauce in place of water in step 2.
---