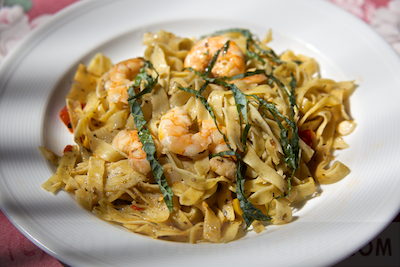 Lemon Pasta and Shrimp with Chiffonade of Kale
A colorful, aromatic and elegant pasta dish. Don't be intimidated by the long list of ingredients - the dish really comes together quickly. The key here is fresh made pasta, preferably lemon-flavored. If you are lucky enough to get really flavorful pasta as we have at Assenti Deli in San Diego, omit the lemon juice and use only 1/2 teaspoon lemon zest. The thinly sliced kale will quickly wilt with the warm pasta and add a lovely earthy note.


Yield 4 servings

Ingredients

1 pound fresh pasta, linguine suggested
1/2 pound large shrimp, peeled and deveined
1 teaspoon lemon zest
1/2 teaspoon crushed red pepper flakes
2 tablespoons olive oil
1 large onion, diced
1 red bell pepper small, julienned into quarter inch strips
1 yellow bell pepper small, julienned into quarter inch strips
3 larges cloves garlic, minced
1 tablespoon dried basil
1/2 teaspoon dried oregano
1/3 cup chicken broth
6 ounces artichoke hearts, sliced
2 tomatoes, chopped
1 tablespoon lemon juice
2 teaspoons freshly ground black pepper, to taste
1/4 cup Pecorino Romano cheese for grating
1/2 cup tender kale cut into very thin strips (or parsley, roughly chopped)
1/3 cup steamed asparagus pieces, or fresh or frozen peas
---
1
Bring a pot of salted water to boil for pasta.
---
2
Combine shrimp with lemon zest and crushed red pepper flakes; set aside.
---
3
Heat the olive oil in a large skillet over medium-high heat and sauté the onion and the bell peppers until crisp-tender. Stir in the garlic, basil and oregano and cook 1 minute more.
---
4
Add chicken broth, artichoke hearts and tomatoes and cook for 3 minutes. Add the asparagus or peas (if using), then transfer mixture to plate.
---
5
In same skillet, sauté shrimp until just pink, adding a little more olive oil if needed. Return vegetable mixture to pan with shrimp.
---
6
Cook pasta until just al dente. Drain, reserving 1 cup of pasta water.
---
7
Combine pasta and shrimp mixture, add lemon juice, grate in at least 1 tablespoon of cheese, and add a generous amount of freshly ground black pepper. Begin adding pasta water, 1/4 cup at a time, just until mixture moves loosely but is not saucy (you may not use all the reserved water).
---
8
Serve in individual pasta bowls. Top with a grating of cheese, then top with ribbons of kale. Pass cheese grater at table.
---
---