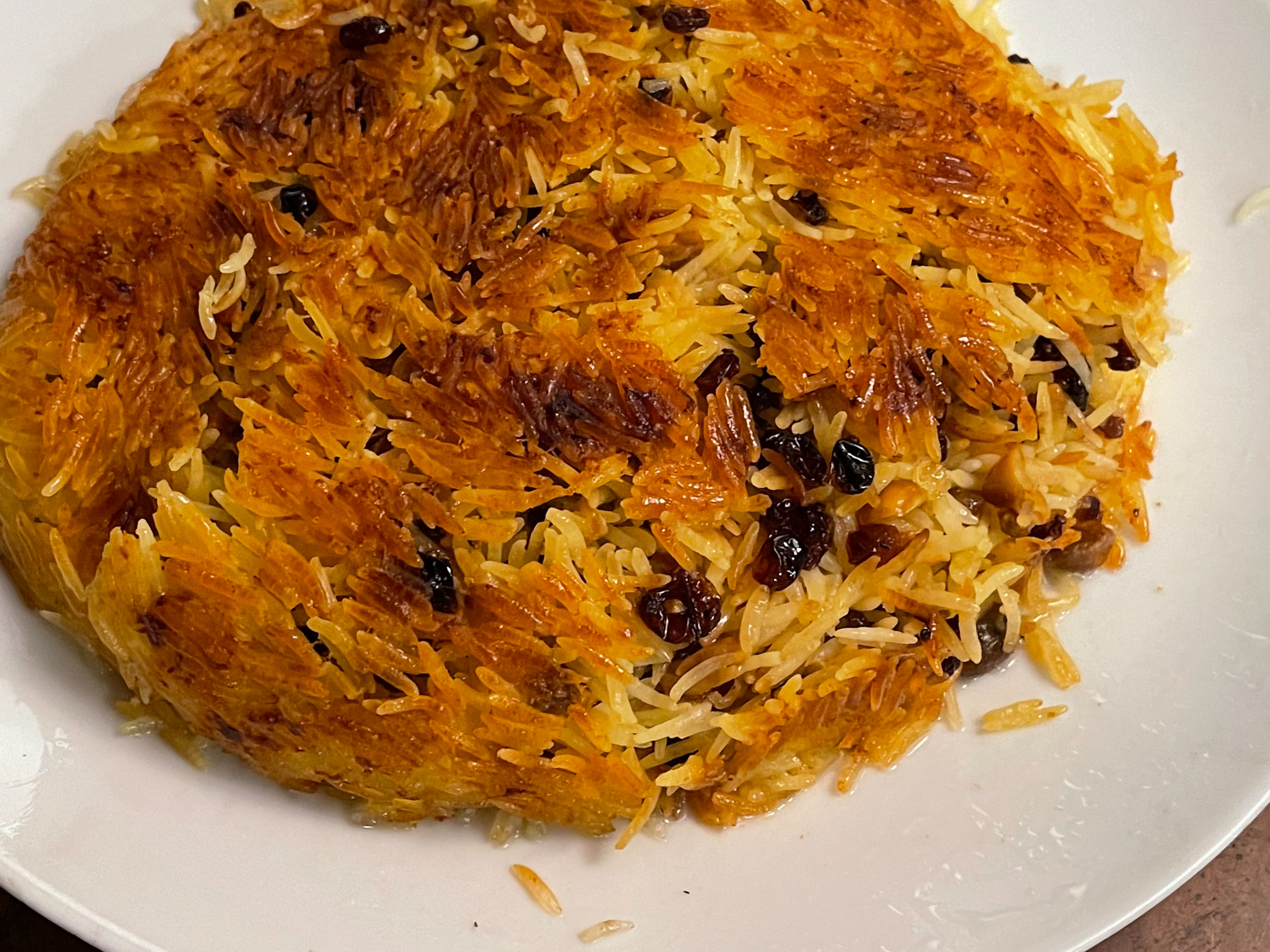 Joanna's Jeweled Rice
This stunning rice recipe is a perfect accompaniment to many dishes. It produces a prized tahdig or rice crust. I have adapted Samrin Nosrat's brilliant Persian-ish rice methodology here, as it has made perfect tahdig for me again and again. Having been long enamored of Najmieh Batmanglij's Jeweled Rice, I brought some of those ingredients to Nosrat's plain version. The result is heavenly. ~Joanna


Yield 4 servings

Ingredients

1 cup basmati rice
2 tablespoons dried barberries
4 cups water, plus more for soaking
1 teaspoon kosher salt
1 tablespoon butter
1/4 cup thinly sliced onion
2 tablespoons roughly chopped pistachios (or sliced almonds)
1/2 teaspoon dried orange peel or 2 teaspoons candied orange peel (optional)
2 tablespoons plain yogurt
3 tablespoons butter
3 tablespoons neutral-tasting oil
1/3 cup saffron water (using 1 teaspoon loosely-packed saffron, about.5 gram)

Special equipment: Heavy 8-inch nonstick deep skillet
---
1
Cover rice with water and allow to soak for 30 minutes.
---
2
Swish barberries in a bowl of warm water and allow them to float and soak. Barberries are often sandy, and this will allow sand to drop to bottom.
---
3
Bring 4 cups of water to a boil over high heat. When it boils, add salt.
---
4
In a bowl, rinse rice with cold water, swirling vigorously with your fingers, changing water at least five times until water runs almost clear. Drain rice.
---
5
Stir rice into salted water. Stir occasionally until rice is al dente, about 6 to 8 minutes. (Err on the side of softer rather than too chewy here.)
---
6
Drain rice, then rinse with cold water to stop cooking. Allow to drain while proceeding with the next steps.
---
7
Melt 1 tablespoon butter in a skillet over medium heat. Add onion and saute until just beginning to turn golden. Add nuts and saute until nuts take on a bit of color and are fragrant, about 2 minutes more. Remove from heat.
---
8
Remove barberries from water by skimming off the top. Do not pour through strainer as you will reintroduce the sand that has fallen to the bottom of the bowl. Add barberries and orange peel to skillet and mix.
---
9
Remove 1 cup of rice and combine with yogurt in a small bowl. In a larger bowl, combine remaining rice with onion mixture.
---
10
Wipe out skillet and place over medium heat. Add oil and 3 tablespoons butter. When butter has melted, add yogurt-rice mixture and spread to cover pan. Gently pile rice-onion mixture on top, and mounding toward the center. Using a wooden spoon handle, make six holes in the rice to allow steam to escape from pan bottom.
---
11
Cook for 15 to 20 minutes, turning the skillet a quarter turn every 3 or 4 minutes. There should be enough oil in the pan to see it bubbling up the sides. If not, add more oil to see bubbles.
---
12
Reduce heat to low and cook another 15 to 20 minutes, continuing the quarter-turns. The edges of the crust should be golden, and the rice should be cooked thoroughly.
---
13
When rice is ready, slowly pour the saffron water over the rice, staying 1/2 inch from edges. Cook for 1 more minute, then remove from heat.
---
14
Unmold rice by carefully running a spatula along the edges of the pan to ensure that no part of the crust is sticking. Place platter over pan and, using oven mitts, preferably over the sink, grab pan and platter together and flip over. Set on a counter and carefully remove pan. If rice doesn't slip out in one piece, scoop out rice, chip out tahdig in pieces. Serve.
---
---