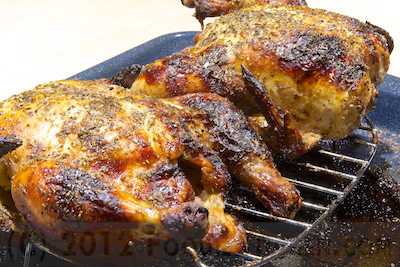 Mark's Balsamic and Herb Crusted Game Hen
Simple to make, outstanding flavor! You can substitute fresh herbs if you have them - just double the measurement. You can also stuff some wedges of oranges or lemons in the cavity. The glaze here produces a deep brown color; if you find your hens are getting too dark, tent with a bit of foil. This recipe is also great on the grill: Cut the hens down the backbone and lay flat before coating with the glaze. Grill over medium or indirect heat until done, approximately 30 minutes, turning every 5 minutes. Watch for flare-ups! Goes great with Joanna's Jeweled Barberry Rice.


Yield 4 servings

Ingredients

2 games hens, 1-1/2 pound each, (or 1 hen per person if less than 1 pound each)
salt and freshly ground black pepper, to taste
1/4 teaspoon garlic powder
1/2 teaspoon onion powder
1-1/2 tablespoons Dijon mustard
1-1/2 tablespoons honey
1 tablespoon balsamic vinegar
1/2 teaspoon dried rosemary
1 teaspoon dried basil
1 teaspoon dried oregano
---
1
Preheat oven to 375°F.
---
2
Pat hens dry and season all over with salt and pepper. Sprinkle onion and garlic powders over hens.
---
3
In a small bowl, whisk together mustard, honey and balsamic vinegar. Spread mixture all over hens, then sprinkle with the herbs. Place breast side up on rack in shallow roasting pan.
---
4
Pour 1/2 cup water in bottom of roasting pan. Roast hens, basting occasionally with pan juices, for 45 minutes, or until juices run clear from thigh when pierced with a fork. The color should be deep, deep brown, but not black. Tent with foil if browning too quickly.
---
5
Cut each hen in half and arrange on serving platter. Skim fat off pan liquid. Spoon some of the juices over the pieces.
---
---
notes This can be made with chicken if game hens are not handy.
---