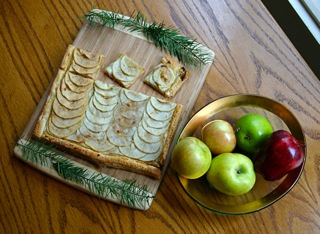 Parisian Apple Tart
This is the classic tart found in bakeries all over France. It is delicious any time, but I especially love to make it when we have houseguests on the morning of a holiday. No one seems to want a big breakfast at these times, so we have it with coffee as we prep the food for the big feast. You can make this the night before, then serve at room temperature, or heat at 300°F for 10 to 15 minutes. - Joanna.


Yield 12 servings

Ingredients

1/4 cup water
1/4 cup plus 2 tablespoons sugar (divided use)
7 apples, such as Granny Smith, Jonathan or Fuji (divided use)
1 teaspoon vanilla
1 puff pastry sheet (approximately 8.5 ounces)
2 tablespoons butter, melted
1 tablespoon confectioners sugar
flour for dusting pastry board
---
1
Make apple compote: In a medium saucepan, combine the water and1/4 cup sugar. Peel, core and roughly chop 3 apples. Add apples to water and sugar, then cook over medium heat for about 10 minutes, until apples are soft. Add a little more water as necessary during cooking to prevent sticking. Remove saucepan from heat and add vanilla. Puree using an immersion blender or food processor. Set aside to cool. (Compote can be prepared 2 days ahead and kept refrigerated.)
---
2
Make tart shell: Preheat oven to 425°F. Roll out pastry sheet on floured board until it measures 11" x 17" (or 1 inch shorter and narrower than your baking sheet). Trim 1/2 inch strip of pastry from each edge. Transfer pastry body to baking sheet. Moisten edges with water, then place a strip of the trimmed pastry along each edge to form a narrow rim. Tap lightly into place. Prick crust all over with a fork. Place a second baking sheet on top of pastry, then place in middle of oven. Bake for 8 minutes, then remove top baking sheet, and bake for 2 minutes longer. Remove from oven and allow to cool while preparing apples.
---
3
Peel and core remaining 4 apples. Using a mandolin or sharp knife, slice apples crosswise as thinly as possible, producing thin rings.
---
4
Spread compote evenly over tart. Beginning at one corner and working along the length of the tart, place an apple ring, then overlap another ring, covering the hole in the first ring. Repeat along one side until row is complete, then begin second row, making sure apples just barely overlap first row. Repeat until tart is covered with apple slices. Brush with melted butter, then sprinkle with 2 tablespoons sugar.
---
5
Bake at 425°F for 20 to 25 minutes. Remove from oven, adjust rack to broiling position and turn on broiler. Dust the tart with confectioners sugar, then broil for 1 to 2 minutes, watching all the while to make sure it does not burn. The edges of the apples will brown slightly, creating a beautiful effect.
---
6
Cool before serving, as compote will be very, very hot.
---
---