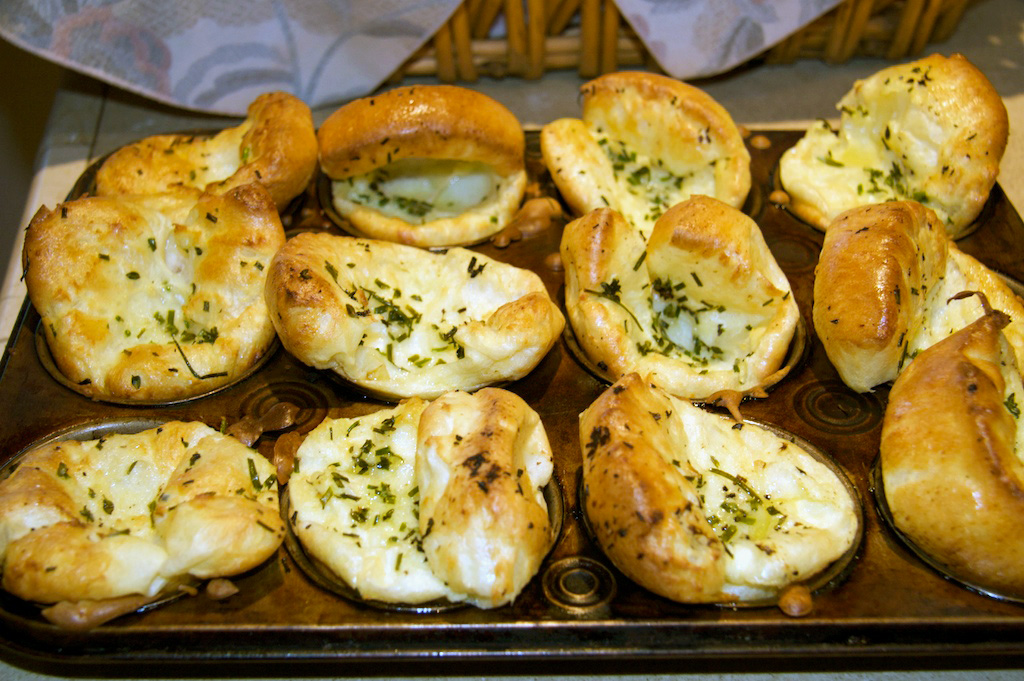 Yorkshire Pudding
Yorkshire Pudding is the great English complement to Roast Prime Rib. This is not a pudding as we know it, and is closer to a popover. As the roast rests, prepare this perfect accompaniment. Folks love these little gems; serve at least 2 per person.
Goes with Roast Prime Rib of Beef.

Yield 12 muffins

Ingredients

1/4 cup roast beef pan drippings (see note)
1 cup white flour
1/4 teaspoon salt
2 eggs
1 cup milk
1 tablespoon snipped fresh chives
1 teaspoon fresh thyme leaves
---
1
Set oven to 450°F.
---
2
Using a 12 cup muffin tin, spoon 1 teaspoon hot drippings into the bottom of each cup. Place in oven to heat up as you make the batter. The drippings must be hot for the pudding to puff up.
---
3
Combine flour and salt in a bowl.
---
4
In another bowl, beat eggs and milk. Add this to the flour/salt bowl. Stir with twelve swift strokes to make the batter.
---
5
Pull muffin tin out of oven. Working quickly to not lose heat, pour the batter to approximately 3/8 full in each cup.
---
6
Top each pudding with a bit of chives and thyme.
---
7
Bake for about 15 minutes until puffed and golden. Serve immediately.
---
---
notes NOTE If there are not enough beef drippings, add vegetable oil to the desired measurement.
Yorkshire Pudding can also be made in one large pan rather than muffin tins. Pour batter into the center of hot roast pan (after removing beef), bake as above. When the soufflé rises dramatically, remove and cut into pie-wedges.
---