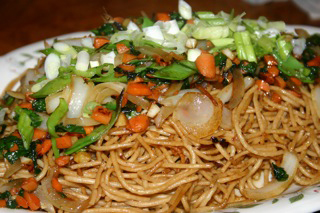 Vegetable Lo Mein
Authentic tasting, quick to prepare and versatile, as you can substitute any vegetables you desire. Just be sure to cut your vegetables in proportionate sizes so that they will cook evenly. Note: Most home woks are too small to handle an entire pound of noodles. If so, fry noodles in batches, adding proportionate amount of sauce, keeping finished noodles warm until vegetables are cooked.


Yield 4 servings

Ingredients

1 pound spaghetti or chow mein noodles, cooked al dente

Sauce:
1/4 cup dry or cream sherry
2 tablespoons soy sauce
3 tablespoons oyster sauce
1 teaspoon sesame oil
1/2 teaspoon roasted chile paste

Vegetable mixture:
1 tablespoon vegetable or peanut oil
1 cup julienned bamboo shoots
3 carrots, peeled and julienned one quarter inch
2 cups thinly sliced bok choy
1 small onion, thinly sliced
2 cloves garlic, chopped
1 tablespoon minced ginger

Garnish:
4 scallions, thinly sliced
---
1
In a small bowl, whisk together sauce ingredients.
---
2
In a wok or large frying pan, over very high heat, heat vegetable oil. Add noodles and stir fry, allowing them to get a little bit of brown to them before turning. When noodles are heated, add half of the sauce, and cook for 1 minute, tossing noodles in sauce. Remove to serving dish and keep warm.
---
3
Add a bit more oil if needed to wok, then add vegetables and stir fry until crisp- tender, 3 to 5 minutes. Add remaining sauce and cook 1 minute more.
---
4
Pour vegetables over noodles. Top with scallions and serve.
---
---