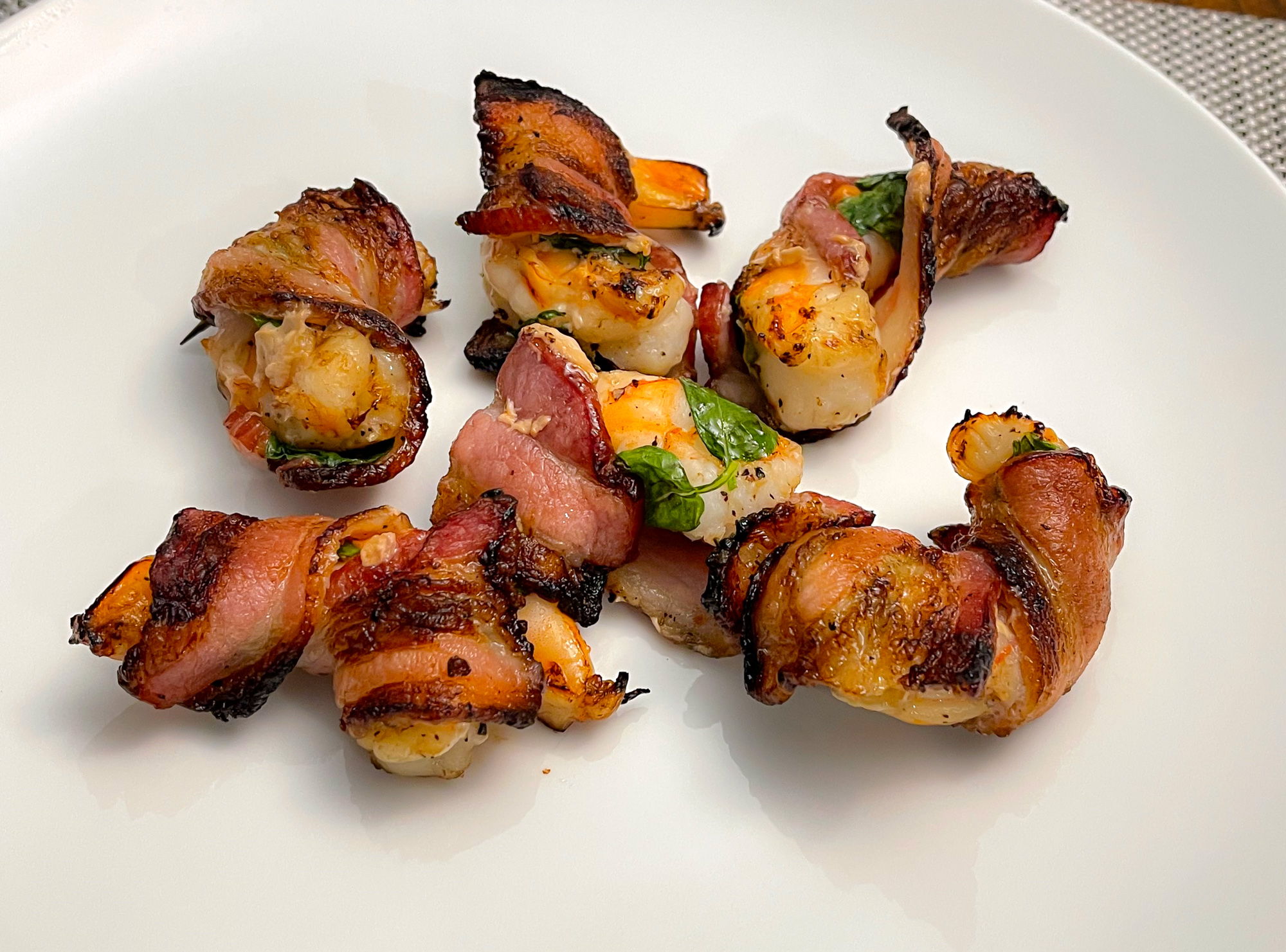 Bacon Wrapped Prawns with Basil and Tellicherry Pepper
A special dish that goes quickly at the table. Tellicherry is the only pepper to use here. The sweet pungency is a perfect complement to smoky bacon and succulent prawns. Serve with a green salad flecked with bleu cheese bits for a satisfying light dinner.


Yield 4 servings

Ingredients

20 jumbo prawns (13-15 per pound), peeled and deveined, tails left on
1 teaspoon balsamic vinegar
freshly ground tellicherry pepper
10 slices bacon (or prosciutto), cut in half crosswise into strips
20 large basil leaves (plus more for optional garnish)

Extra equipment: toothpicks for securing bacon to prawns
---
1
Place prawns in a bowl. Splash on a bit of balsamic vinegar and dust generously with tellicherry pepper. Stir to coat.
---
2
On a work surface, place 1 half-slice of bacon. Tear a basil leaf in half lengthwise and lay end to end on bacon. Starting with the head end, wrap one prawn with the bacon slice by placing end of prawn on bacon and beginning to roll towards tail, almost entirely encasing prawn and basil. Secure with toothpick and place on baking sheet. Repeat with remaining prawns.
---
3
Place baking sheet 4 to 6 inches under broiler and broil approximately 5 minutes per side, turning once.
---
4
Remove from broiler and sprinkle generously with coarsely ground tellicherry pepper. Garnish with whole basil leaves and serve.
---
---