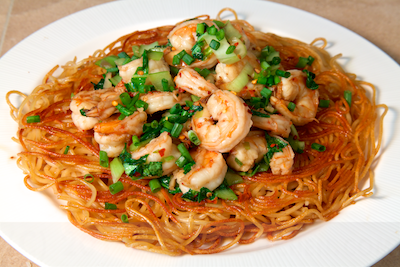 Crispy Noodle Cake with Ginger Shrimp
Crispy noodle cakes are always a stunning presentation. Topped with gingery shrimp in a luscious sauce, a stir-fry becomes a company-worthy, special occasion dish. Wine suggestion: dry Riesling, Pinot Gris.


Yield 4 servings

Ingredients

2 tablespoons soy sauce, divided use
1 tablespoon Shaoxing wine (can substitute sherry)
1 tablespoon cornstarch
2 teaspoons sugar, divided use
1 pound large shrimp, peeled and deveined
2 tablespoons vegetable oil, preferably peanut, divided use
1/2 pound chow mein noodles or spaghetti, cooked
1 tablespoon minced fresh ginger
1/2 pound baby bok choy, thinly sliced
1/2 cup vegetable or chicken stock
2 tablespoons oyster sauce
2 teaspoons sesame oil
1/4 cup thinly sliced scallions
---
1
Mix 1 tablespoon of soy sauce, sherry, cornstarch, and 1/2 teaspoon of the sugar. Add shrimp and toss to coat. Set aside.
---
2
Pour 1 tablespoon of oil into a large frying pan (non-stick works best)over medium-high heat. Toss noodles with 1-1/2 teaspoons soy sauce, then spread over hot oil to form a pancake. Cook until browned, 7 to 10 minutes. Hold large plate over pan and invert, allowing pancake to drop onto plate. Slide cake back into pan, cooking other side for 7 to 10 minutes, until browned.
---
3
Meanwhile, heat the remaining oil in a wok. Add bok choy and stir-fry until tender, about 3 minutes. Add the ginger and shrimp mixture, then stir-fry for 3 minutes or until the shrimp are just pink.
---
4
Add broth, oyster sauce, remaining sugar, remaining soy sauce, and sesame oil to the wok, stir, and quickly bring to a boil, allowing sauce to thicken slightly.
---
5
Present pancake on a large platter topped with shrimp mixture, garnished with scallions.
---
---
notes Wine pairing: Dry Reisling, Pinot Gris
---