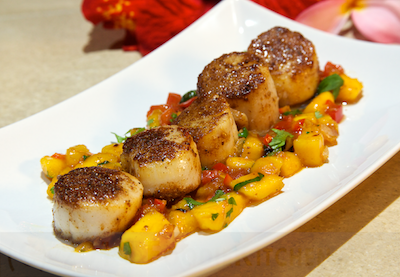 Garam Masala Seared Scallops with Mangoes
Exotic, luscious, and so easy to make! Garam Masala is an Indian spice blend. If you don't have it, substitute a high-quality curry powder. Serve with steamed couscous or rice for a satisfying light meal.


Yield 4 servings

Ingredients

2 pounds sea scallops
2 tablespoons vegetable oil
2 tablespoons butter
1 medium onion, finely chopped
2 cloves garlic, minced
4 tablespoons garam masala
2 tomatoes, diced
2 mangoes, peeled and diced
2 tablespoons finely chopped jalapeño pepper
1/2 cup chopped cilantro
1 teaspoon freshly ground black pepper
---
1
In a frying pan large enough to hold the scallops in a single layer, over medium heat, melt butter with oil. Add onions and sauté until tender, about 5 minutes. Add garlic and sauté 2 minutes. Remove onions and garlic and reserve.
---
2
While onions are cooking, place garam masala on a plate. Pat scallops dry, then lightly press tops and bottoms of scallops onto garam masala, shaking off any excess.
---
3
Turn heat under frying pan to medium-high, and when hot, add scallops in a single layer. Cook for 2 minutes, then turn over and cook for 2 minutes more. Remove to platter and keep warm.
---
4
Return onions and garlic to pan. Add tomato, mango, jalapeño, and half of the cilantro. Stir and heat until just warm. Season with black pepper. Spoon around scallops. Sprinkle remaining cilantro over all and serve.
---
---