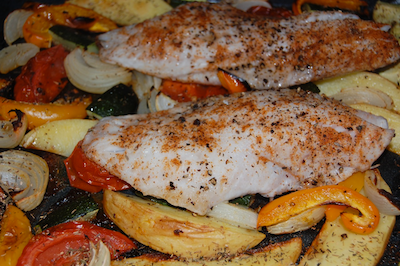 Cajun Seasoned Fish with Roasted Vegetables
Great way to enjoy the harvest of summer and fall with fish.


Yield 4 servings

Ingredients

2 zucchini (about 1.5 pounds total), cut into 1.25 inch pieces, then quartered
2 large tomatoes (about .75 pound total), cut into 6 wedges each
1 large onion, cut into half inch wedges
1 large bell pepper (any color), cut into.5 inch wide strips
2 large garlic cloves, crushed
2 large Yukon gold potatoes, cut into.5 inch wedges
4 pieces skinless fish fillet (about 6 ounces each), such as halibut, cod, or seabass
1 teaspoon Cajun seasoning
6 fresh thyme sprigs
2 teaspoons olive oil
2 tablespoons water
1 tablespoon soy sauce
1 tablespoon fresh lemon juice
2 teaspoons Worcestershire sauce
---
1
Preheat oven to 500°F.
---
2
In a large shallow baking pan toss zucchini, tomatoes, onions, bell pepper, garlic, potatoes, and thyme with oil and salt and pepper to taste and spread in one layer. Roast vegetables in middle of oven 20 minutes, or until they begin to brown.
---
3
Season fish lightly with salt, freshly ground black pepper, and Cajun seasoning. Arrange fish over vegetables and roast 7 minutes, or until it just flakes with a fork.
---
4
Transfer fish carefully to a plate and keep warm, covered. To vegetables add water, soy sauce, lemon juice, and Worcestershire sauce and stir to loosen brown bits from bottom of pan and break up tomatoes.
---
5
Place vegetables on serving platter, then top with fish.
---
---
notes Can be prepared in 45 minutes or less.
---