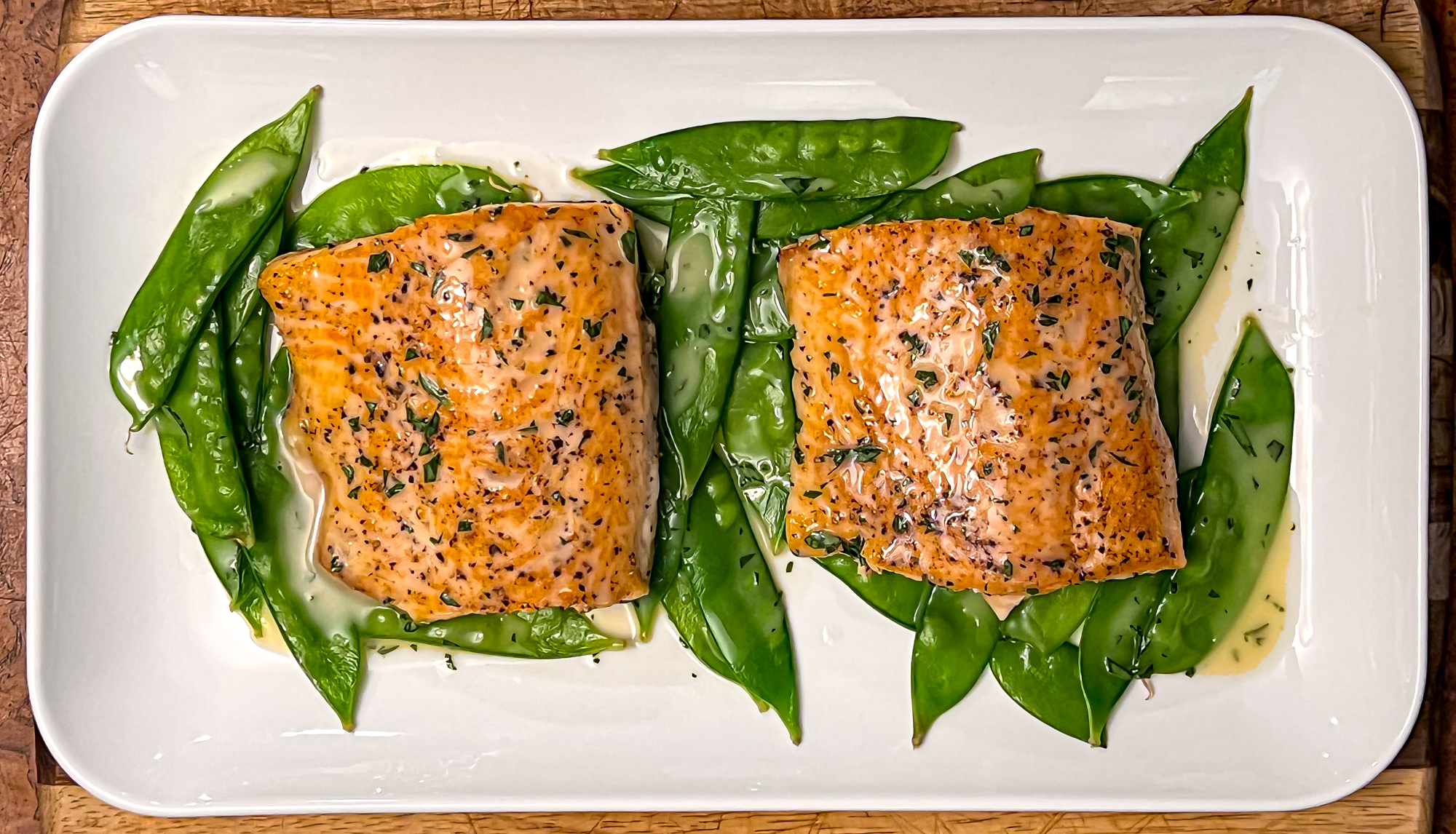 Arctic Char with Snow Peas and Tarragon Butter
Arctic char is a delicately flavored, delicious fish that sits somewhere between salmon and trout. It cooks quickly. The skin gets wonderfully crispy and is to be enjoyed. The snow peas also cook quickly, so the directions have you simultaneously cooking fish and peas. Read through once before cooking to understand the steps and the rhythm of bringing it together quickly. The base for the beurre blanc (tarragon butter) can be made ahead of time. This dish is fancy company fare but so quick to prepare it could be a regular weeknight treat. Serve with plain white rice.


Yield 2 servings

Ingredients

2 6-7 ounce portions of Arctic char fillets
Salt and pepper, to taste, plus 1 teaspoon salt for peas +
2/3 cup dry white wine
5 black peppercorns
1/4 cup chopped green onions (or shallots)
2 sprigs tarragon
5 tablespoons butter
1 teaspoon minced fresh tarragon
1 tablespoon oil
2 cups (approximately .25 pound) fresh snow peas
---
1
Lightly season fillets on both sides with salt and pepper. Place a serving platter in oven and heat at 200°F.
---
2
Make beurre blanc base: In a small saucepan, combine wine, peppercorns, onion, and tarragon sprigs. Cook over medium-high heat and reduce to 3 tablespoons (watch carefully, as once it starts to reduce, it can evaporate quickly). Strain into bowl, discard solids, then pour back into saucepan and set aside. (You may need to rinse the saucepan first if any solids have stuck to it.)
---
3
Heat a pan of water to boiling for the peas. At the same time, place a skillet (preferably non-stick) that can hold both fish fillets over medium-high heat.
---
4
Add oil to skillet. When hot, place fish flesh side down in oil and sear until just golden. Flip, lower heat to medium and continue cooking until just beginning to firm up. Total cooking time is 5-6 minutes, as char cooks quickly.
---
5
As soon as you flip the fish, add a teaspoon of salt to the water for the peas, then toss peas in the water. They will take about 2 minutes to cook. Drain, then place back in pan, off heat, to keep warm and remove moisture.
---
6
When fish is cooked, remove pan from heat and quickly reheat the reduced wine in the small saucepan. Add 1 tablespoon butter, stirring to melt. Remove from heat and add remaining butter, 1 tablespoon at a time, stirring to melt quickly and create a slightly thickened, smooth sauce. Stir in minced tarragon.
---
7
Spread peas onto warmed platter, top with fish fillets, then spoon beurre blanc sauce over all. Serve immediately.
---
---