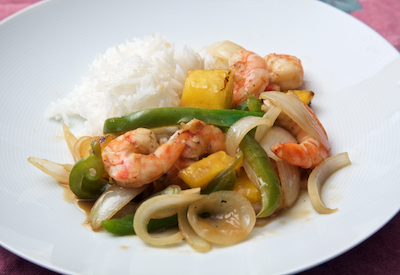 Polynesian Shrimp with Pineapple
A wonderful weeknight dinner - quick and easy to prepare, delicious and healthy! This is a take off on Sweet and Sour Shrimp, but there is no batter to add unwanted calories. Fresh pineapple makes it extra special, but pineapple canned in its own juice also works well. Serve over steamed rice.


Yield 4 servings

Ingredients

2 tablespoons coconut oil (or peanut oil)
1 pound large shrimp, peeled and deveined
1 large onion, halved lengthwise, then cut into quarter inch slices
1 large green bell pepper, halved lengthwise, then cut into quarter inch slices
3/4 cup pineapple chunks
1/3 cup sugar (palm sugar, if you have it, otherwise white)
1/2 cup rice vinegar (can substitute distilled white)
1 tablespoon soy sauce
1 teaspoon dry mustard
1 tablespoon cornstarch
1/4 cup water
---
1
Heat oil in a wok or large skillet over medium-high heat. Add shrimp and stir fry until just pink and beginning to curl, about 3-4 minutes. Remove from pan with slotted spoon.
---
2
Add onions, peppers and pineapple to pan and stir fry for 1 minute.
---
3
Combine sugar and vinegar, stir to dissolve sugar, then add to pan. Bring to a boil and cook for 2 minutes.
---
4
Combine soy sauce and mustard, then add to pan. Combine cornstarch and water, stir to dissolve, then stir into pan. Cook for 1 minute.
---
5
Add shrimp back to pan, stir for 1 minute to reheat, then serve over steamed rice.
---
---