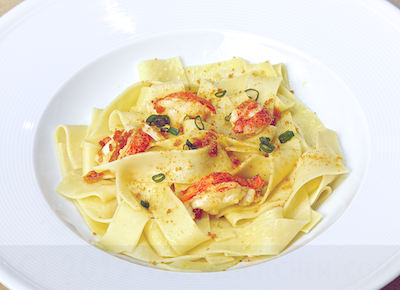 Millionaire's Pasta
Need to impress someone with an exceptional pasta dish for a special occasion? Trying to make someone fall in love with you? This is a subtly flavored dish - think lobster in drawn butter - so pair accordingly: a salad of soft lettuces and a crisp Prosecco or Champagne work well. If you can't find tomato powder, you can make your own by pulverizing sun-dried tomatoes in a spice grinder.


Yield 4 servings

Ingredients

8 ounces pappardelle or wide noodle pasta
4 tablespoons butter
1 clove garlic, cut into fine slivers
3 tablespoons olive oil
1/4 cup chopped sun-dried tomatoes(dry-packed, not ones in oil)
1 tablespoon tomato powder, plus extra for garnish
1 cooked lobster tail (about 16-20 ounces before cooking), sliced into 1/3-inch medallions (can substitute 1/2 pound langoustinos)
1 tablespoon thinly sliced scallions (green part only)
---
1
Boil water for pasta. Place serving bowls or plates into 180°F oven to warm. Cook noodles until al dente, then drain.
---
2
Meanwhile, in a small pan over low heat, melt butter with olive oil. Add garlic and dried tomatoes. Stir one minute, then stir in tomato powder and shellfish. Keep warm over low heat, stirring occasionally.
---
3
Remove warm bowls from oven. Divide noodles between bowls.
---
4
Using a spoon to hold back the shellfish, pour butter-tomato sauce over the noodles in each bowl. Give noodles a quick toss to coat, then divide shellfish over the top of each bowl.
---
5
Sprinkle tomato powder over each bowl, just enough of a dusting to add a lovely glow. Garnish with scallion pieces and serve.
---
---
notes NOTE On Tomato Powder. Grind dried tomatoes in an electric mill. A clean coffee grinder will do. We use tomatoes from the garden we have dehydrated.
---