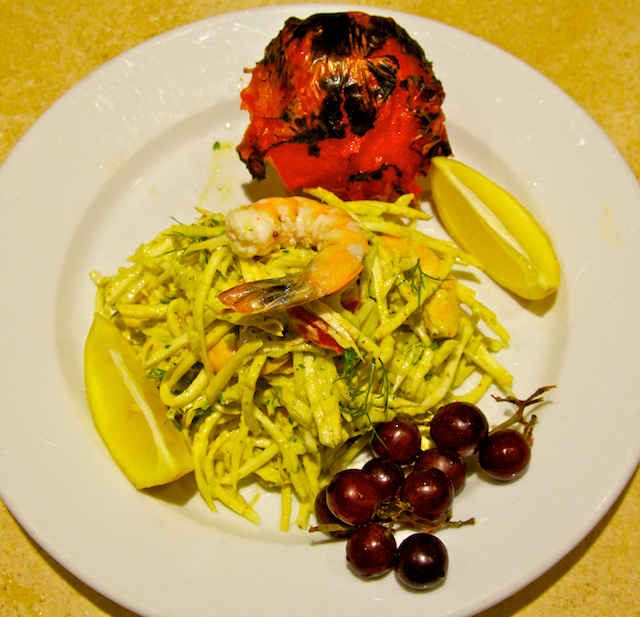 Shrimp Remoulade
Authentic New Orleans full meal salad that I had in a small restaurant awaited across from the Cafe du Monde. This is a bit of a production, but follow the steps, especially keeping the vegetables thinly cut. The fire-roasted whole tomato adds balance in color and flavor. ~Mark


Yield 4 servings

Ingredients

salad base
1 pound celery root, peeled and finely julienned. 1/8", 3.5mm -use mandolin julienne grater
1/4 pound fennel bulb, trimmed and julienned 1/8" - use mandolin slicer
3 tablespoons lemon juice (1 large lemon), keep rinds for shrimp cook

seafood
1 pound shrimp (16-20 size), shell on
lemon rinds from making salad base (above)
1 cup water for boiling
1 tablespoon Zatarains Seafood Boil
1 bay leaf

remoulade sauce
2 tablespoons lemon juice juice (1 lemon), keep rinds
1 egg yolks
1/4 cup chopped green onion
1/4 cup chopped onion
1/4 cup chopped celery
1-1/2 tablespoons chopped parsley
1 teaspoon prepared horseradish
1 tablespoon grain mustard
1/2 tablespoon dry yellow mustard
1 tablespoon ketchup
1/2 teaspoon salt
1/4 teaspoon cayenne pepper
1/4 teaspoon freshly ground black pepper
3/8 cup vegetable oil

salad
1-1/2 tablespoons diced gherkin pickles
1 tablespoon capers, drained
2 tablespoons chopped herbs - dill, basil, a bit of fennel top
1 small ripe tomato, seeded and diced
4 whole fresh tomatoes, oiled
---
1
Prepare salad: Toss celery root and fennel in a glass bowl with lemon juice. Save the lemon rinds for the next step. Put a dish on top of the bowl and refrigerate for 30 minutes to 1 hour.
---
2
Cook shrimp: Put lemon rinds from preparing salad into a wide deep skillet. Add water, Zatarains, and bay leaf and bring to a boil. Add shrimp, shell on. Cook until shrimp turn pink and curl; 3-5 minutes. Remove and refrigerate.
---
3
Make sauce: Except for oil, put all sauce ingredients in blender for 2 minutes. With blender running, drizzle in oil. Refrigerate until ready to assemble salad.
---
4
Over a gas jet or direct flame, char whole tomatoes, turning until some of the skin blackens in spots and peels.
---
5
After salad has rested, toss 3/4 of the remoulade sauce with the celery root and fennel. Add chopped gherkins, capers, herbs. Stir well. Add diced tomatoes, stirring lightly.
---
6
Remove shells from shrimp, leaving tail shell intact. For each serving, set aside one shrimp to be used as a garnish. If shrimp are big, cut the remaining shrimp into mouth-sized portions. Toss these shrimp with the remaining 1/4 sauce.
---
7
Presentation. Portion remoulade to each plate. Top with whole shrimp. Garnish with fennel or dill fronds. Serve with blackened tomato and a lemon wedge. Optionally, plate each salad dish on large lettuce leaves.
---
---