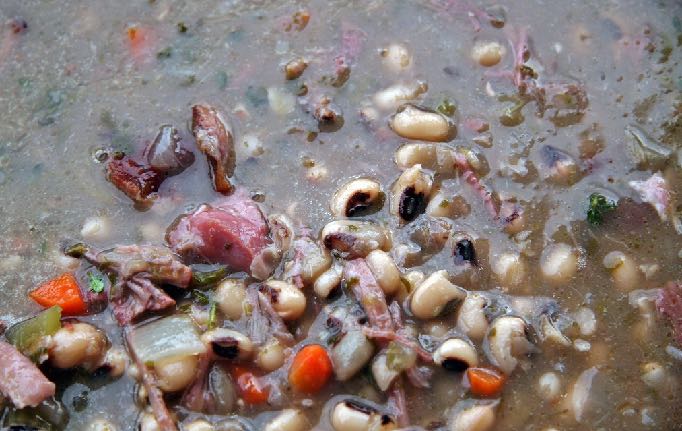 Hoppin' John
Mildly spicy bean-and-rice combos are a classic in the South. Most agree that this manner of cooking was brought here by African slaves. No one knows how Hoppin' John got its name, but it's fun to guess. Variations of the original dish use pigeon peas, or yellow-eyed beans. On New Year's Day, the custom is to serve it to bring everyone good luck. Goes well with Mess O' Greens.
Great New Year's dish.

Yield 12 servings

Ingredients

2 cups dried black-eyed peas
2 tablespoons olive oil
2 large onion, coarsely chopped
2 stalk celery, chopped
2 carrot, diced
4 large garlic cloves, minced
8 scallions, chopped
2 smoked ham hock, split if large
2 teaspoons cayenne
2 bay leaf
1 cup finely chopped fresh flat-leaf parsley
2 teaspoons salt, to taste

rice:
2 cups long-grain white rice (Texmati or basmati)
2 teaspoons fresh thyme leaves
1/4 teaspoon ground cloves
2 teaspoons cayenne

garnish bowls (optional):
6 tablespoons chopped plum tomatoes
6 tablespoons chopped scallions
4 tablespoons chopped fresh parsley
4 tablespoons chopped fresh mint leaves


---
1
Rinse and pick over black-eyed peas. Put them in a large pot and fill with water up to 2 inches over the top of the peas. Bring to boil over moderate high heat. Boil 2 minutes, remove from heat, cover, and let stand for 1 hour. Drain.
---
2
Heat large Dutch oven and warm oil. Cook onion, celery, carrots, and garlic until slightly soft, about 4 minutes. Add scallions, cooking 2 more minutes.
---
3
Add 3 1/2 cups water, ham hock, cayenne pepper, bay leaf, and peas to the Dutch oven. Bring mixture to a boil, skim the surface to remove any fat. Cook at a bare simmer until peas become tender but not mushy, about 2 hours.
---
4
With all the fat skimmed, add parsley. Taste to check if salt needs to be added to pot. Remove ham hocks. Pull off meat and dice between 1/4 to 1/2 inches. Discard ham bones. Add meat back to the beans.
---
5
Cook rice separately, adding 1/2 teaspoon of thyme leaves, ground cloves, and 2 cups water. Stir gently and cover, simmering over very low heat for 20 minutes or until the rice is done. Remove bay leaf. At last minute, add remaining 1/2 teaspoon of thyme and cayenne.
---
6
Serve everything steaming hot. Guests can fill a bowl of their own Hoppin' John, debating on the efficacy of rice and garnishes.
---
---
notes NOTES
If you don't want all the hoo-hah, try simpler authentic vegetarian
Black-Eyed Peas
.
On Ham Hocks: not all hog knuckles are alike. For fatter and meatier joints 6 to 7 inches long, have the butcher cut it in thirds.
---