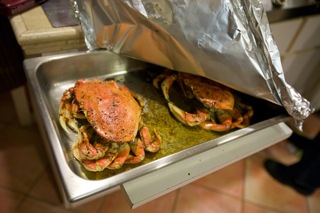 Vietnamese Pepper Crab
Roasted crab seasoned with black pepper is an amazing dish served at Thanh Long in San Francisco. Serve this to people you are comfortable with, as it is a messy, finger-lickin' delicious experience. Ideal with Vietnamese Garlic Noodles.


Yield 4 servings

Ingredients

4 whole Dungeness crabs, live
1-1/2 cups butter, divided use
3 tablespoons freshly cracked black pepper, preferably tellicherry
2 tablespoons minced garlic
2 tablespoons coconut or peanut oil
4 scallions, thinly sliced
---
1
Bring a large pot of water to boil, then plunge in crabs. Cook for 5 minutes and remove immediately from water. Refrigerate until cool enough to handle. (Cooking crabs can be done up to 4 hours in advance of serving.)
---
2
Melt 1 cup butter. Add pepper and garlic. (Can be done in advance, and there is no need to re-melt. The butter can be used in semi-soft form.)
---
3
Preheat oven to 450°F. Remove back shell from crabs. Clean shell, all gills, and fat from crab bodies and rinse with water.
---
4
In a high-sided roasting pan, spread coconut oil to prevent butter from burning. Place crab bodies in pan. Spread pepper-butter mixture over entire body and legs of crabs, filling body cavity. Place back shells over the crab and brush with butter from the pan. Cover with foil, sealing edges to pan. Roast for 20 minutes.
---
5
Meanwhile, over very low heat, melt remaining 1/2 cup butter, then add scallions and remove from heat.
---
6
Presentation. When roasting time is up, transfer crabs to individual serving plates. Spoon a bit of the butter and juices from the roasting pan on the crab. Drizzle scallion-butter mixture over legs and around plate. Dress with additional cracked black pepper if desired. Serve with nutcrackers, seafood forks, and lots of napkins.
---
---
notes NOTE on cleaning crabs - From the back of the crab find the key - a small tail tucked under the body. Break off the key to lift and remove shell from back of crab. Clean with running water, remove gills and fat from crab body. Take off head pieces. Rinse out the back shell.
---