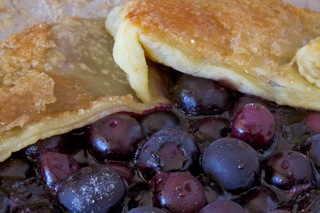 Fresh Blueberry Tart with Puff Pastry Crust
We love quick and easy baking! This rustic tart can be paired with ice cream for a rich dessert, or served as a simple breakfast pastry.


Yield 8 servings

Ingredients

3 cups fresh blueberries
1/3 cup orange juice (water can be substituted)
1/2 cup sugar
2 teaspoons cornstarch
5 teaspoons water
1 sheet puff pastry
1 egg, beaten
2 tablespoons raw sugar (turbinado)
---
1
Place 1 cup of blueberries with orange juice and 1/2 cup sugar in heavy saucepan. Bring to a boil and immediately lower heat to gentle simmer. Cook until mixtures thickens somewhat and berries release their juices.
---
2
Dissolve cornstarch in water. Stir into berry mixture and continue to stir until mixture thickens and liquid becomes translucent. Remove from heat, stir in remaining berries, and cool to room temperature.
---
3
Preheat oven to 400°. Unfold puff pastry and place on floured board and roll to 14-inch square. With sharp knife, cut off corners to form 14-inch circle.
---
4
Place pastry on lightly oiled baking sheet. Brush some of egg on center, leaving a 11/2-inch border (this will seal the pastry so the juices aren't absorbed). With a fork, prick the border every inch or so.
---
5
Spread berry filling over egg. Bring edges up over filling, pinching here and there, to form a crust to hold in the filling.
---
6
Brush crust with egg, then sprinkle with turbinado sugar.
---
7
Bake for 17 to 20 minutes, until crust is golden brown.
---
---
notes Frozen berries can be used, but be sure to thaw and let excess moisture drain.
---