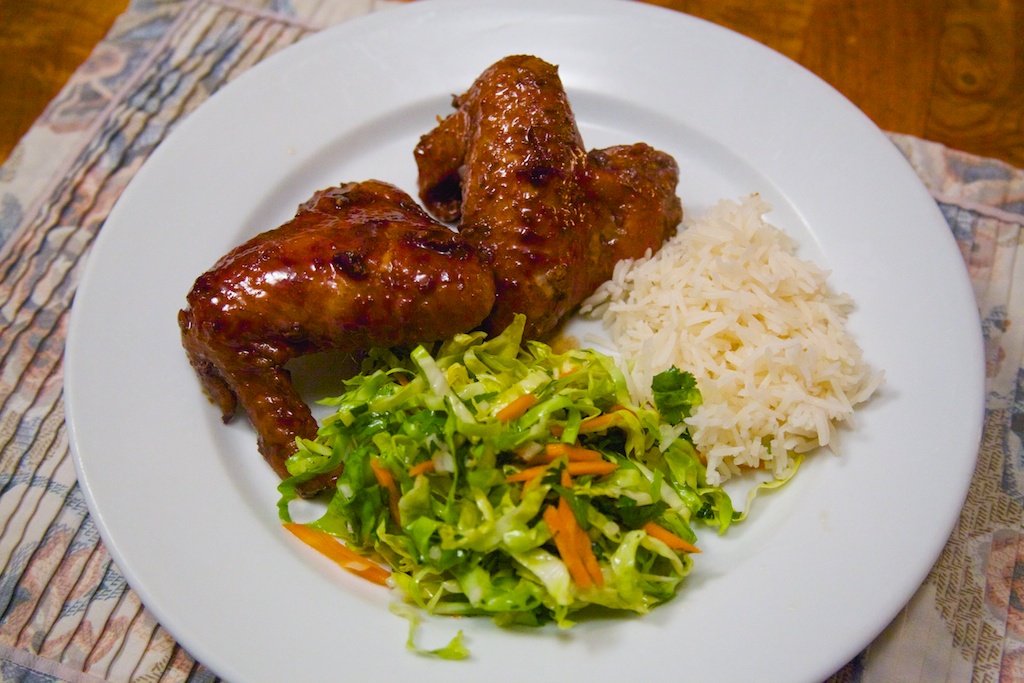 Japanese Soy Chicken Wings
The salty taste of thickened soy sauce on chicken wings is a treat. The method here is to reduce the soy sauce gradually to a syrup while keeping the chicken wings whole, creating a lovely mahogany finish. An excellent side dish is Thai-Style Slaw on the FK web site. Served with steamed white rice.
Soy Chicken Wings.

Yield 4 servings

Ingredients

2 teaspoons peanut or other vegetable oil
2 tablespoons ginger, thinly julienned
2 pounds chicken wings
1/2 cup basic soy sauce (low sodium is acceptable, tamari preferred)
optional
1 tablespoon high-quality sweet soy sauce
---
1
Put wok on medium high heat and add oil.
---
2
Add ginger to oil and stir-fry until fragrant, about 30 seconds.
---
3
Add chicken wings. Stir for a few minutes and turn heat to medium-low. Every few minutes turn the wings and add a tablespoon of soy until all used up. Cook until thickened. About 12 minutes.
---
4
Turn heat to low, stir with dollops of high quality sweet soy sauce. Cook for 10 minutes, stirring and turning a few times. The sauce should be thick, syrupy, mahogany in color, and the wings cooked through.
---
---
notes NOTE To finish with a sweet soy sauce - Kecap Manis is excellent. Regarding service portions, one pound of chicken wings is about 8 to 10 pieces. If serving other dishes figure two wings per person. As a solo dish, 4 to 5 wings serve one person. However, in starving artist mode, I've eaten the whole dish to keep making art for six hours straight.
Maintenance: If using old-fashioned ironware, quickly inspect for signs of rust spots. Never cook with rust on a wok or utensils. Rust fowls flavor and prevents you from wanting to cook this dish again. Clean with steel-wool pad, wash, then wipe down with cooking oil.
---