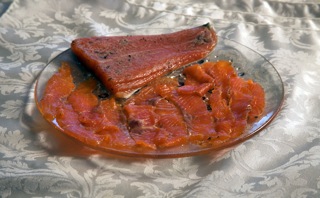 Gravlax
Gravlax is a holiday tradition in our home. We serve gravlax as an appetizer, laid out on the kitchen counter with crackers like this recipe for Østerdals Flatbrød for nibbling. At breakfast this is a delicious accompaniment to bagels or creamy scrambled eggs. Begin curing 2 to 3 days before serving it.
Cured salmon, Swedish style.

Yield 12 servings

Ingredients

3 pounds fresh whole salmon, cleaned and scaled, butterflied (see note)
1 large bunch fresh dill
1/4 cup coarse sea salt
1/4 cup sugar
2 tablespoons crushed white peppercorns
---
1
Place salmon for curing in glass or other non-reactive dish.
---
2
Spread dill in fish cavity.
---
3
Combine remaining ingredients, then sprinkle evenly over dill.
---
4
Cover fish with plastic wrap. Place a platter or board on top of the fish, then weigh it down with something quite heavy, such as 4 cans of food.
---
5
Cure by refrigerating 48 to 72 hours, turning every 12 hours, and weighing down again. If desired, you may baste with the liquid that has accumulated. This is recommended for very thick fillets.
---
6
When cured, discard the dill and seasonings and pat dry. Slice very thinly and serve with crackers or bread.
---
---
notes NOTE Wild caught salmon is essential. Farm-raised salmon does not give good results for gravlax. If you cannot purchase a single chunk of salmon that has been butterflied, buy two filets that match in size and shape.
---