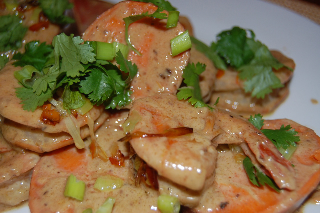 Shrimp in Coconut Curry with Yams
I love Thai style coconut curries, and this one is super easy and serves as a great base for improvisation. You can vary the ingredients with almost anything you have on hand. Scallops, chicken or salmon all work well in place of or in addition to the shrimp, and other vegetables can be added – spinach, carrots, mushrooms, bell peppers, whatever!


Yield 4 servings

Ingredients

1 1/4 pound of large shrimp (16-20 count), shelled and deveined
2 medium yams, peeled and cut into 1-inch chunks
3 tablespoons peanut oil
1 Thai orange chile pepper (Fogo), de-seeded, then thinly sliced (see note)
4 scallions, thinly sliced, white and green parts used separately
4 teaspoons Thai green curry paste
1 tablespoon lemon grass paste (see note)
1 can (14-ounce) unsweetened coconut milk
1/3 cup chicken stock
1 tablespoon palm sugar (can substitute packed light brown sugar)
1 1/2 tablespoons Thai fish sauce
1 tablespoon fresh lime juice
1/2 cup chopped fresh cilantro
---
1
Drop yams into boiling water and cook until just tender, about 8 minutes. Drain and rinse with cold water.
---
2
In large skillet, heat 1 tablespoon oil. Add chile and the white parts of the scallion. Cook until just wilted, then transfer to bowl. When cool, add green parts of scallion.
---
3
In same skillet, heat remaining oil. Sprinkle shrimp with salt and pepper, then quickly stir-fry in pan, about 3 minutes. Transfer to a different bowl.
---
4
In same pan, heat remaining tablespoon of oil, then add curry paste and lemongrass. Saute 1 minute, then add coconut milk, chicken stock, sugar and fish sauce. Cook 5 minutes.
---
5
Add yams and shrimp to pan along with lime juice. Heat through, about 3 minutes, then top with cilantro and chile-scallion mixture.
---
6
Serve with steamed jasmine rice.
---
---
notes Chile Fogo is a bright orange pepper about 4-5 inches long. It is hot by American standards, with a wonderful fruitiness to it. You may substitute a good hot jalapeno or a small red Thai chile.
I use the lemon grass paste that is so readily available in grocery stores. I like it because its shelf life coincides with my ability to use it up, whereas I can never seem to use up all the fresh lemon grass I might buy. You can certainly use fresh lemon grass in this recipe.
---