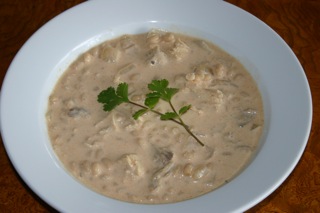 Chicken and White Bean Chili
Chipotle chilies add a subtle smokiness to this great weeknight meal. It is also a hit for football parties.


Yield 6 servings

Ingredients

1 cup dried small white beans, such as Great Northern, approximately 6 cups cooked
2 tablespoons butter
1 large onion, chopped
3 tablespoons white flour
2 cups chicken broth
1 cup milk
1/2 cup heavy cream
1/2 can (7 grams), chipotle chilies, chopped
2 cups shredded cooked chicken
1/2 tablespoon ground cumin
1 teaspoon salt
1/4 teaspoon freshly ground black pepper
---
1
Place beans in heavy large pot with enough cold water to cover by at least 3 inches. Let stand overnight. Alternately, you can do a quick soak.
---
2
Drain beans. Return to pot and add enough cold water to cover beans by 3 inches. Simmer until beans are almost tender, stirring occasionally, about 1 hour. Drain well.
---
3
Return pot to medium heat. Melt butter, then add onions and saute until tender, about 15 minutes. Add flour and stir 5 minutes (do not brown). Gradually whisk in chicken broth, milk and cream. Simmer gently until thickened, about 10 minutes.
---
4
Add reserved white beans, chipotles, shredded chicken, and remaining ingredients. Simmer gently to blend flavors, about 20 minutes.
---
5
Serve with chosen accompaniments.
---
---
notes Accompaniments (optional):
1 cup grated Monterey Jack cheese
1 cup sour cream
1/2 cup chopped fresh cilantro
Purchased salsa
Fresh corn kernels
Tortilla chips
Cubed avocado
---