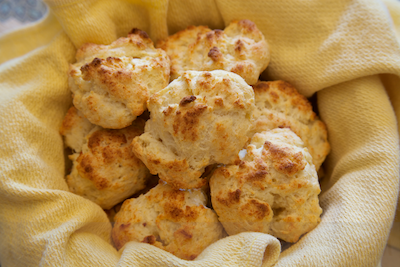 Christine's Cheddar Biscuits
Cousin Christine hails from Houston, and like Southerners who call themselves cooks, she has a great biscuit recipe. These are easy drop biscuits - no rolling and cutting necessary, and therefore the texture remains light as long as you do not overmix. If you have any leftover biscuits (doubtful), use them to make ham sandwiches. Fabulous! ~Joanna


Yield 12 biscuits

Ingredients

1 1/2 cups flour
1 tablespoon baking powder
pinch of salt
pinch of baking soda
4 tablespoons butter or shortening
1 cup of extra sharp cheddar cheese, grated
3/4 cup buttermilk (see substitute below)
---
1
Preheat oven to 450°.
---
2
In a bowl, mix flour, baking powder, salt, and baking soda.
---
3
With a pastry blender or two knives, work butter into dry ingredients until the size of peas. If you use a food processor for this step, carefully pulse to ensure that you don't over-blend the mix.
---
4
Stir in cheese, then add buttermilk.
---
5
Pinch off biscuits and drop on a greased baking pan. Bake for 10 to 12 minutes, until golden.
---
---
notes NOTE If you do not have buttermilk, add 3 tablespoons of buttermilk powder when mixing the dry ingredients. Then add 3/4 cup water in step 4 that calls to add buttermilk.
---