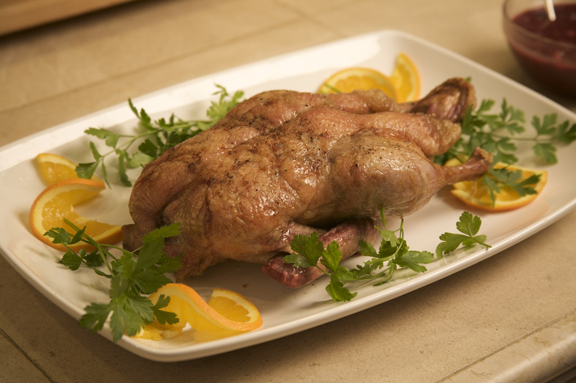 Roasted Duck with Hunter's Cranberry Sauce
A lovely winter recipe, when cranberries and oranges are readily available. This is not cranberry sauce as you know it from Thanksgiving. The rich duck stock adds a deep dimension. There is little meat on a duck, and feeding four depends on accompanying dishes, however, you can easily feed 6 people with two plump ducks as the center piece.


Yield 6 servings

Ingredients

2 ducks, 4 to 5 pounds each
Salt and freshly ground black pepper +
1 orange, halved

Sauce: +
Duck giblets and necks +
1 tablespoon olive oil or butter
1 large onion, coarsely chopped
3 ribs celery, coarsely chopped
1 carrot, coarsely chopped
1 clove garlic, chopped
2 cups red wine
2 cups water
1/2 teaspoon thyme
6 sprigs parsley
3 cups fresh cranberries
2 tablespoons red wine vinegar
2/3 cup sugar
---
1
Preheat oven to 450°F.
---
2
Trim excess skin and fat from duck cavities, making sure to get fat glands inside the neck cavity and near thighs (most store-bought ducks have had these glands removed already). Pierce duck all over with fork, especially on fatty sides. Sprinkle all over with salt and pepper. Stuff 1/2 orange in each body cavity.
---
3
Place ducks on rack in roasting pan and place in oven. Immediately reduce heat to 350°F and roast 1 1/4 to 1 1/2 hours.
---
4
Prepare sauce: Heat oil in large sauce pan, add giblets, onions, celery, carrot, and garlic. Saute until vegetables begin to color. Add 1 cup of the wine to deglaze, stirring up any bits that may have stuck to pot. Add water, thyme, parsley, neck and a bit of salt and pepper. Simmer this stock for 1 hour. Strain into clean pan.
---
5
Add remaining cup of wine, cranberries, vinegar and sugar to strained stock. Cook over medium-high heat until berries pop. Lower heat and simmer until thickened. Remove from heat. The sauce can be made to this point up to a day in advance and stored in refrigerator until needed to finish sauce. Bring to low simmer before adding pan juices.
---
6
When ducks are finished, transfer from roasting pan to carving board. Remove oranges. Pour off fat from pan, or use fat separator, then strain pan juices into sauce. Season to taste with salt and pepper.
---
7
Cut each duck into quarters and place on serving platter. Dress with a bit of sauce and pass additional sauce at table.
---
---
notes Goes well with Basmatti or a wild rice.
---