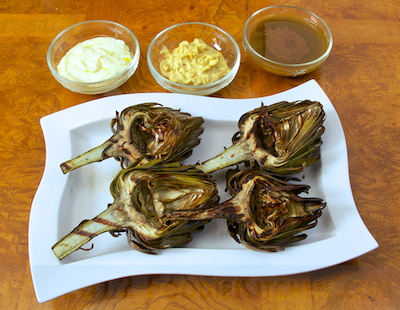 Smoky Artichokes with a Trio of Sauces
Artichokes are always special, and who can resist anything from the grill? I brought these to a late-spring potluck, and they were gone in minutes. The charring of the artichokes creates a delicious, smoky flavor that is complemented well by the sauces presented here. Large chokes can be quartered for an appetizer or buffet offering. Small chokes can be left whole and need less time in the boiling process. ~Joann


Yield 8 servings
---
1
Trim a bit off the stem of the artichokes, then place them in a large pot and fill halfway with water.
---
2
Bring to a boil, then cook artichokes until just tender but not too soft (20 to 30 minutes). Test for doneness by sticking a fork near the base of the leaves at the top of the stem. You should be able to pierce it, but it should not be soft.
---
3
Remove from heat and immerse in cold water to stop the cooking process. When cool, drain in a colander.
---
4
Place artichokes on a cutting board. With a sharp knife, cut in half lengthwise. With a small, sharp spoon, scrape out the choke/thistle and small leaves in the center of each half, revealing the heart.
---
5
Stir together lemon juice, olive oil, and salt. Toss artichokes halves in this mixture (can be done up to 8 hours in advance.)
---
6
Prepare a hot grill. Place artichokes, cut side up, and grill for 5 minutes or until the leaves start to char a bit.
---
7
Flip chokes over carefully, as olive oil may run out and cause a flare-up. Flare-ups are good for charring chokes, but you can get burned if you are not careful.
---
8
Grill until char lines appear on the chokes, another 5 to 7 minutes.
---
9
Arrange chokes on a platter. Serve with sauces listed above.
---
---