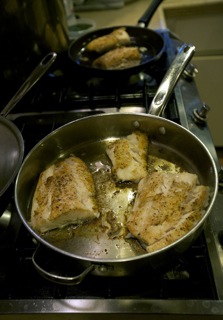 Pan-Seared Halibut with Orange Butter
The secret to this recipe is really, really fresh fish. The preparation is elegant and mild, allowing the fish to be the star of the dish.


Yield 4 servings

Ingredients

4 fresh halibut fillets, 6-8 ounces each, 3/4 inch thick (it is ok if the skin is on)
Salt and freshly ground black pepper
1 tablespoon sugar, preferably raw (turbinado)
2 tablespoons olive oil
2 tablespoons butter
1 large, very juicy naval orange, halved
---
1
Place fillets on a work surface, skin-side down. Sprinkle lightly with salt, a bit more generously with pepper, then sprinkle with sugar.
---
2
Heat a large, heavy skillet (not non-stick) over medium-high heat. When the skillet is hot, add olive oil and butter. Let the oil get very hot, taking care not to burn the butter. When hot, place fillets skin-side up in pan and sear, 3-5 minutes, until golden brown. Resist the urge to move them about. If you have heated your pan and oil properly, the fish will easily lift from the pan when browned.
---
3
Flip the fillets, turn heat down to medium low, and continue cooking until fish flakes easily, 5-7 minutes. Remove to serving platter.
---
4
Quickly scoop out any large particles remaining in pan and return to heat. There should be about 3 tablespoons or so of juice left in the pan. If there is not enough, add a bit of butter.
---
5
With a reamer, quickly juice the orange halves into the hot pan juices. This should bubble up and color quickly.
---
6
Spoon over fish and serve.
---
---
notes Note: At Step 3, after you flip the fish, you can finish the cooking in a preheated 425°oven for 5-7 minutes, then proceed as directed.
---