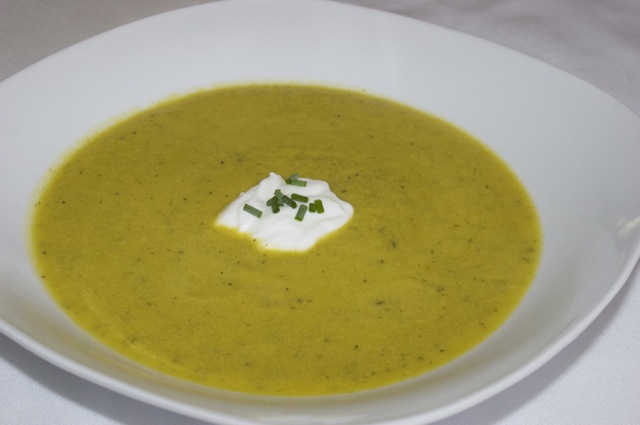 Curried Zucchini Bisque
Lisa Speer won for this recipe in the "Beyond Zucchini Bread" category. This is a lovely light bisque, perfect for a summer luncheon.


Yield 6 servings

Ingredients

3 tablespoons extra virgin olive oil
1 cup chopped sweet onion
1 cup chopped yellow bell pepper
Salt and freshly ground black pepper, to taste
2 cloves garlic, minced or pressed
4 cups vegetable or chicken stock
4 cups chopped zucchini
3/4 cup Greek yogurt, plus more for serving
3/4 teaspoon curry powder
---
1
Heat oil in a large saucepan over medium-high heat. Add onion and bell pepper; season moderately with salt and pepper. Cook until soft, stirring frequently.
---
2
Add garlic, cook 1 minute.
---
3
Add chicken stock, zucchini and additional salt and pepper. When mixture comes to a boil, cover and reduce heat. Cook 15 to 20 minutes, or until zucchini is cooked through, then remove from heat.
---
4
Carefully transfer mixture in batches to a blender; process until smooth.
---
5
Return mixture to saucepan, stir in yogurt and curry powder. Taste and adjust seasonings. Ladle bisque into individual bowls, and garnish with a dollop of yogurt.
---
---