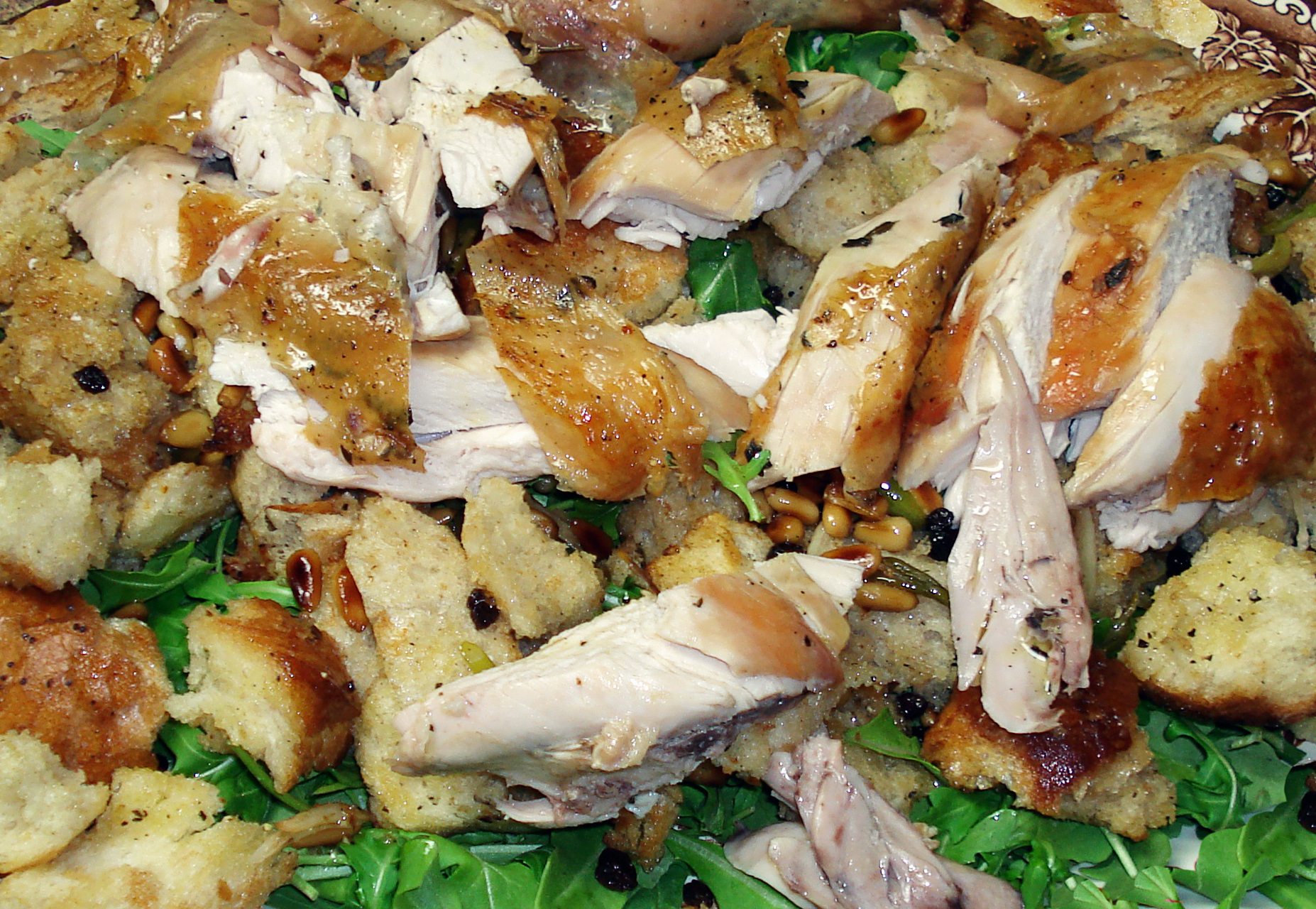 Roast Chicken with Sage Bread Salad
With this great dish for two, Judy Rodgers defined Zuni on Market St, San Francisco. The restaurant has an oven dedicated largely to this fragrant beloved Southwestern dish.
Chicken with bread dressing.

Yield 2 servings

Ingredients

chicken
1 chicken 2-1/2 pounds
1-1/2 teaspoons salt
1 teaspoon fresh ground pepper
4 large sage leaves (can substitute with sprigs of thyme)
4 cloves whole garlic

salad and dressing ingredients
6 cups stale Tuscan bread (no crust) cut into 1 inch cubes
4-1/2 teaspoons olive oil
1 teaspoon red wine vinegar
1 tablespoon warm water
1 tablespoon currants
4 teaspoons pine nuts
2 teaspoons Dijon mustard
4 tablespoons Champagne vinegar
1/2 teaspoon salt
1/2 teaspoon fresh ground pepper
2 cloves whole garlic,chopped
4 scallions, thinly sliced
3 cups mixed young bitter greens including arugula, chicory, frisée, red mustard greens
---
1
The day before, sprinkle salt and pepper on the chicken. Place a sprig of thyme and a garlic clove in each of 4 pockets between the skin and flesh under the breast sides and legs. Wrap in plastic and refrigerate all night.
---
2
Preheat broiler to toast the bread. But first, toss bread with half the olive oil. Next, lightly toast bread along with pine nuts and set aside. Combine red wine vinegar, water, currants and let stand for 1 hour.
---
3
Set oven to 475°F. Roast chicken for 25 minutes. Turn chicken backside up for another 15 minutes. Turn to topside for ten minutes. Let stand while you make the salad dressing.
---
4
Whisk mustard, Champagne vinegar, 1/2 teaspoon each of salt and pepper, and then slowly whisk in 2 teaspoons of olive oil. Add bread and toss to coat. Heat 1/2 teaspoon of olive oil in a small saucepan over medium heat. Add chopped garlic and scallions and cook for 2 minutes. Drain currants and toss them in the bread mixture with scallions and garlic.
---
5
Place dressing and chicken in a baking dish and let bake for 5 minutes. Turn off heat and let dish sit inside oven for 10 minutes. Mix the salad greens with 2 Tablespoons of pan juices. Present chicken mixed with salad. Enjoy.
---
---
notes NOTE This is the version Judy Rodgers sent me in 1994 from my San Francisco days. She has since written the official recipe in her Zuni Café Cookbook, Zuni Roast Chicken With Bread Salad p342, which is somewhat overwritten, going on for five pages.
---