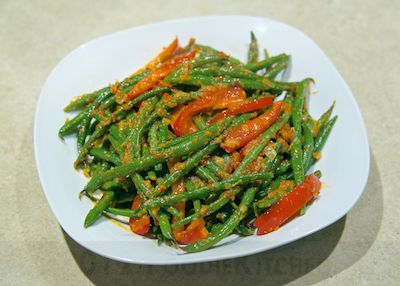 Green Beans with Red Pepper Butter
This is a recipe I contributed to my friend Renee Shepherd's book, More Recipes from a Kitchen Garden. With caramelized onions and sautéed peppers, this green bean dish tastes rich and looks beautiful.


Yield 8 servings

Ingredients

1 tablespoon butter
3 tablespoons olive oil
1/2 medium onion, very finely chopped
2 red bell peppers, julienned
3 tablespoons chicken broth
1 tablespoon lemon juice
1 pound green beans, trimmed
Salt to taste +
---
1
In a large skillet, melt butter, add 2 tablespoons of the oil, and heat gently. Add onion and red pepper and sauté slowly over medium low heat until peppers are tender crisp and onion is translucent and tender. Remove half of this mixture and reserve.
---
2
Add last tablespoon of the oil to the pepper and onion mixture remaining in the skillet. Continue to sauté over low heat for 4 to 5 more minutes until onions are very soft and beginning to caramelize.
---
3
Add the chicken broth and lemon juice, put mixture into food processor for a few minutes until it is a creamy "butter."
---
4
Steam green beans until tender and drain. Combine green beans, reserved sautéed pepper and onion, and the red pepper butter. Salt to taste. Heat through and serve.
---
---
notes
Reprinted with permission from More Recipes from a Kitchen Garden by Renee Shepherd and Fran Raboff.
---