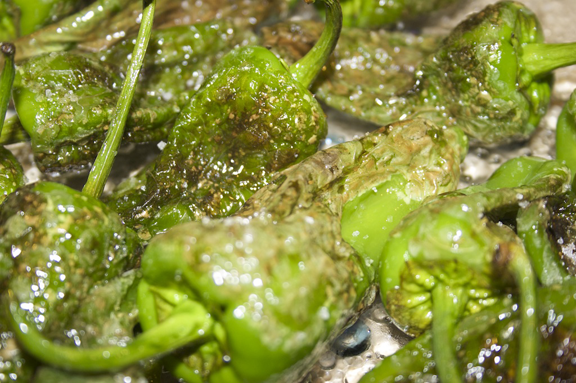 Pimientos de Padron
We first spotted Pimientos de Padron in a little tapas bar in Sitges, Spain, south of Barcelona. It was not displayed at the bar nor on the menu; it was being eaten by the help. At the time, you couldn't get these peppers easily in the States. Now, they have caught on, and the seeds are available for domestic gardens. The plant is a prolific producer in our garden, and a few plants will keep you in peppers all season. Part of their charm is every 10th one or so has a chile kick, about as hot as a poblano. We like to serve them with Tortilla de Patate as part of a tapas menu. We have tried other pan-fried peppers such as Fushimi Peppers, but have returned to Pimientos de Padron as our staple.


Yield 4 servings

Ingredients

30 Pimientos de Padron
1/4 cup olive oil
1 tablespoon Fleur de Sel, or to taste for sprinkling
---
1
Heat olive oil in a large frying pan over medium-high heat.
---
2
When oil is hot, add peppers. Fry until brown and blistery, 3 to 5 minutes. Shake pan often or use tongs to turn peppers for even browning.
---
3
Remove to serving plate, sprinkle generously with salt, and serve immediately.
---
---
notes Pan-seared peppers as appetizers are a thing. After trying many differing sweet and earthy intensities, and even
Fushimi Peppers
we are back to tried and true Pimientos de Padron.
---