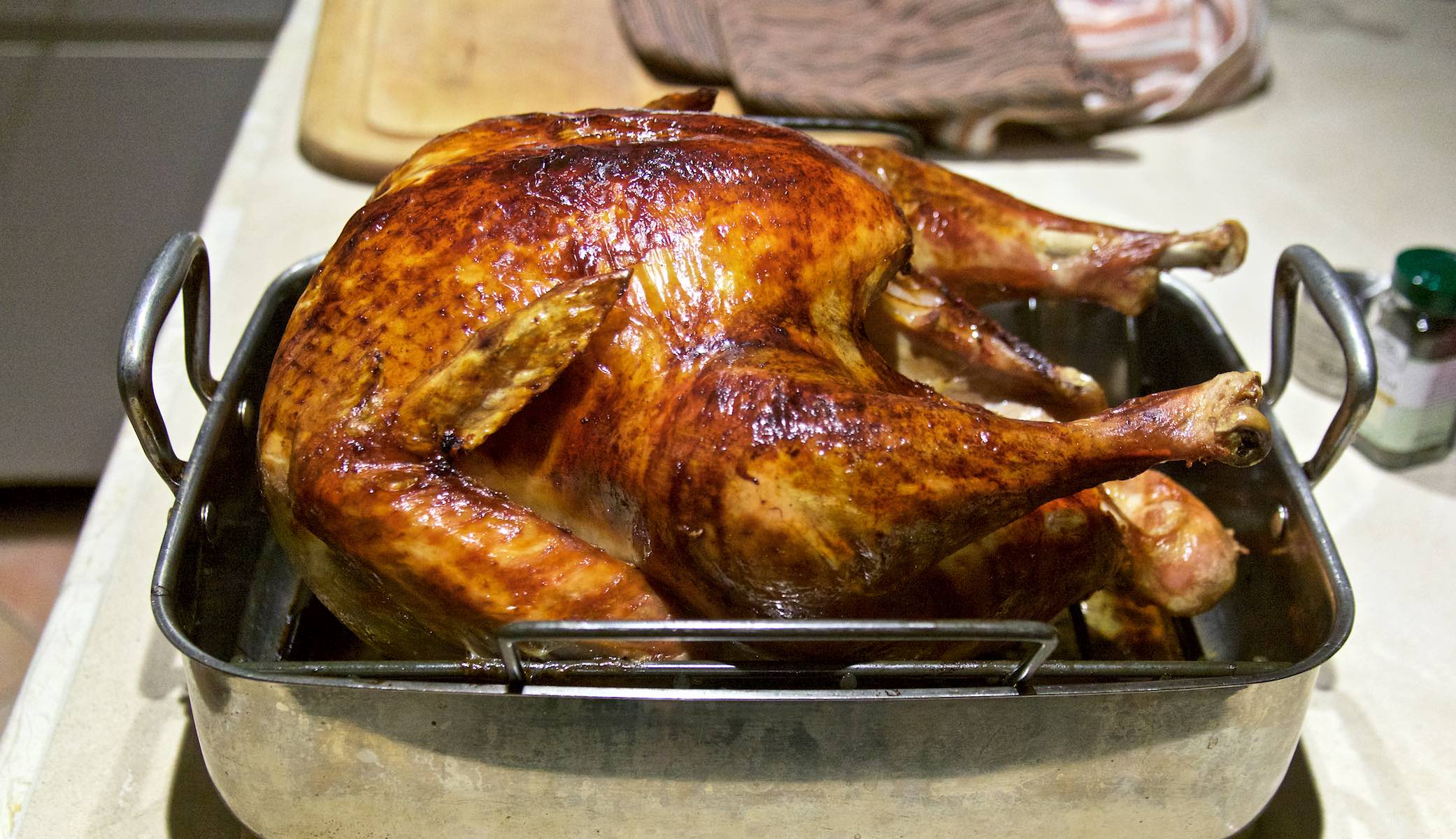 High Heat Roasted Turkey with Gravy
Although it does not take long to cook this, you need to start the day before by brining the turkey. 2 hours with high heat instead of traditional slow-roasting produces excellent results - crispy skin, moist and succulent meat. This method favors smaller turkeys under 15 pounds.


Yield 20 servings

Ingredients

14 pound turkey, neck and giblets reserved

brine
2 bay leaves
6 peppercorns
1 cup sugar
1 cup salt
1 teaspoon dried thyme
1/2 teaspoon dried sage

basting liquid
1 cup dry white wine from a 750ml bottle, remainder of bottle used below
1/2 cup butter

gravy
1/2 cup flour
4 cups water, divided use
2 tablespoons vegetable oil
1/2 cup butter
1 large onion, washed, halved but not peeled
turkey neck
remaining wine in bottle mentioned above
2 stalks celery
2 carrots, trimmed
1 clove garlic
1/2 teaspoon sage
1/2 teaspoon thyme
1 teaspoon salt
giblets reserved from turkey

final seasoning
2 tablespoons soy sauce, or to taste
freshly ground black pepper, to taste
---
1
12 to 24 hours before cooking, brine turkey by placing 1 cup sugar and 1 cup salt in the bottom of a pot large enough to hold the turkey. Add 4 cups hot water, stirring until salt and sugar dissolve. Add remaining brine ingredients. Add 4 more cups of cold water. Place turkey in pot, then add water until turkey is completely submerged. Cover and refrigerate.
---
2
In a small saucepan, pour in 1 cup of the wine and add 1/2 cup of butter. Set aside. This will be your basting liquid.
---
3
Early in the morning of the feast, make roux for gravy. In a small bowl, whisk flour into 1 cup of water. Mixture may be slightly lumpy, but by whisking often, the roux becomes smooth and silky. Set aside and whisk once in a while.
---
4
After making roux begin making gravy base. Heat large stock pan over medium-high heat. Add oil, butter, and onion, browning the cut edges (the browning of the onion and its skin adds color to your gravy). When onion is browned, add rest of gravy ingredients, including 3 cups of water. Heat to boiling, then reduce to simmer. Cover pan, angling lid, so steam escapes, allowing stock to reduce.
---
5
When time to cook, preheat oven to 450°F. Remove turkey from brine and place on work surface. Use paper towels to dry skin and cavity. Begin heating basting liquid to melt butter.
---
6
When oven reaches 450°F, place a buttered rack inside a roasting pan, then place turkey on rack. With brush, baste entire bird with basting liquid. Wrap ends of wings and drumsticks with foil. Cover breast with foil. Place in oven.
---
7
Every 20 minutes or so, lift breast foil, baste entire bird, and then put foil back. After 1-1/2 hours, remove foil for the duration of cooking. Roast for 30 minutes more, basting once more, until inside thigh temperature reaches 150°F.
---
8
Just before turkey thermometer reaches 150°F, set colander in a large bowl and pour off stock pan, catching solids. Rinse out any large particles from pan. Pour stock back into pan and bring to a boil, then reduce to simmer. Reserve giblets, if using and enjoy the neck - the chef's treat!
---
9
When turkey is done, remove from oven and transfer to carving board, covering loosely with foil to keep warm. It will continue to cook while it rests, and the temperature will reach 160°F. Pour roasting pan juices into stock pan.
---
10
Begin adding roux to the stock, a little bit at a time, whisking constantly until desired gravy consistency. You may not need all of the roux; discard unused portion. If using giblets, chop and add to gravy. Serve in a gravy boat. Taste gravy and adjust seasoning by adding soy sauce and freshly ground pepper.
---
11
Carve turkey after it stands 10 to 20 minutes. Pass gravy as accompaniment.
---
---
notes NOTE Roasting Large Birds. The general rule for roasting is 15 minutes for each pound of turkey. Over 16 pounds, 10 to12 minutes per pound at 25 degrees lower temperature. Measure temperature in a few places. Insert thermometer where meat is thickest, and avoid touching bone which gives a false reading as much as ten degrees hotter.
---