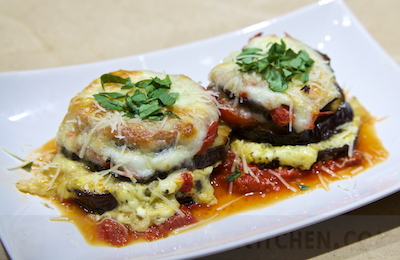 Eggplant Parmesan Stacks
A healthy, easy version of a classic Italian favorite. The stacks are a beautiful presentation, and since there is no breading, they are low-carb, too! These are great made ahead then reheated.


Yield 4 servings

Ingredients

1 large eggplant, 1.5 to 2 pounds, sliced crosswise into 1/4 inch slices (24 slices
1/4 cup olive oil
1 cup shredded mozzarella cheese
1/2 cup ricotta cheese, preferably whole milk
1/2 cup chopped basil
1/2 pound fresh tomato, thinly sliced
Salt and freshly ground black pepper, to taste
1/2 cup grated parmesan cheese, preferably Parmigiano Reggiano
1 cup prepared tomato sauce
---
1
Preheat broiler to 500°F and position oven rack on top setting.
---
2
Lay eggplant slices in single layer on baking sheet (you will most likely have to do 2 batches). Sprinkle lightly with salt, then brush both sides with olive oil.
---
3
Place under broiler and cook for 5 minutes, until slices are just beginning to brown. Turn slices over, and broil second side for 3 to 5 minutes. Cool slightly so that you can handle. Turn oven to bake setting at 350°F and adjust rack to middle position.
---
4
Spray a large baking pan with cooking spray. Starting with the largest slices, lay 8 slices of eggplant on a baking pan with at least 1/2 inch space around each slice. Using half of the mozzarella, cover each slice with a bit of the cheese. Divide the ricotta amongst the slices, spreading slightly over each. Sprinkle half of the basil over the rounds.
---
5
Top each round with another slice of eggplant, again using the largest of the remaining slices. Press down lightly.
---
6
Place a single layer of tomato slices over each eggplant round, then sprinkle with a bit of salt and black pepper. (Take care not to over-salt as parmesan cheese can sometimes add a very salty flavor.) Top the tomatoes with half of the parmesan cheese.
---
7
Place a final slice of eggplant on each stack, pressing down lightly. Spread a tablespoon or so of tomato sauce over each slice. Sprinkle with remaining mozzarella cheese. Bake for 20 minutes, until cheese on top is melted and stacks are heated through.
---
8
Sprinkle remaining parmesan and basil over stacks. Warm remaining tomato sauce to pass at table. Serve 2 stacks per person for an entree or one for a starter.
---
---