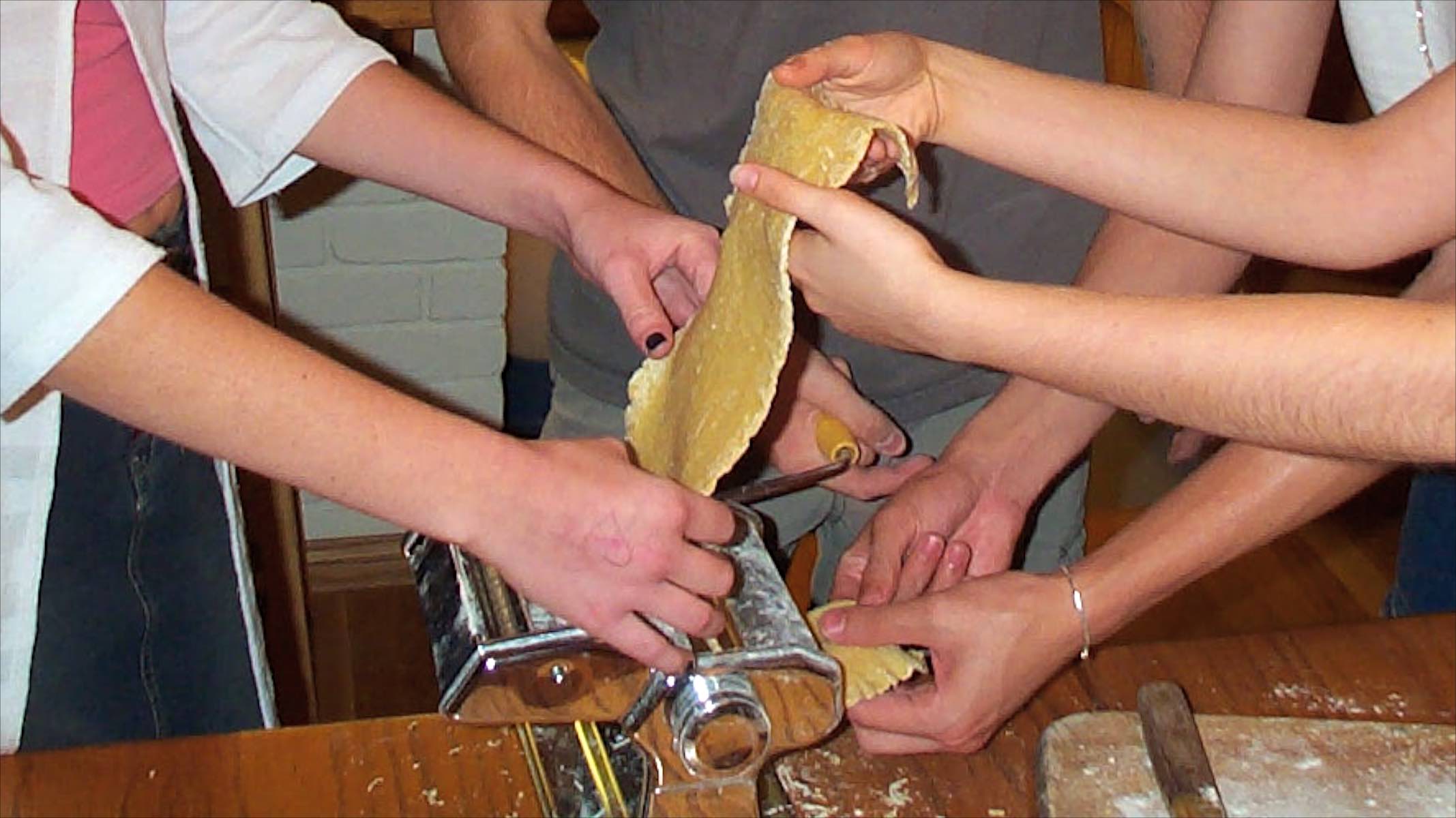 Fresh Handmade Pasta
How fun to have a pasta-making party! Some cook, others roll out the noodles, others hang them to dry. Equal measures of different flours gives the pasta that authentic texture and flavor found in Italy. Using a food processor makes it easy to blend the dough, taking only two or three minutes. We prefer a very inexpensive hand-crank pasta machine after trying various pasta rolling machines. Serve with the sauce of your choice. The site has Pesto, Tomato, and Carbonara. Do not deviate from the recipe to get perfect pasta every time.
Fresh pasta dough for cutting into your favorite shapes.

Yield 4 servings

Ingredients

4 cups flour (mix equal parts of unbleached, high gluten and semolina)
1 1/2 teaspoon salt
4 eggs, lightly beaten
1/4 cup lukewarm water
2 tablespoons olive oil
Special Equipment: Pasta rolling machine
---
1
In a food processor, blend flour and salt. Add eggs, water, and oil. Mix until dough begins to form a ball.
---
2
Turn dough onto a lightly floured board. Knead lightly. Cover with an inverted bowl and let rest for 30 minutes.
---
3
Begin on the loose setting on a pasta machine. Take a small amount of dough (about a quarter-cup) and run through the non-cutting rollers on the machine 2 or 3 times, changing the setting to get progressively tighter. You will end up with a sheet that looks like a lasagne noodle.
---
4
Next, run the sheet through the cutting side, set device to the noodle style you prefer. Hang to dry while you continue to make all the noodles.
---
5
Drop into boiling, salted water and cook for 2 to 3 minutes. Serve with sauces.
---
---