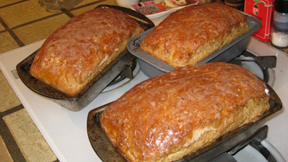 Suzy's Gramma's Oat Bread
My great friend Suzy posted pictures of this bread on Facebook, and I just had to have the recipe. Suzy writes "oh and forgot to mention - the recipe was typewritten (typical for my mom) on the back of a love letter from my dad way back in the '50's. Embarrassing. But the bread is mmmmmgood."


Yield 3 loaves

Ingredients

2 cups rolled oats (no quick oats, please)
1/2 cup molasses
1 tablespoon salt
3 tablespoons butter
4 cups boiling water
8 cups white flour, plus more for dusting
2 packages of active dry yeast
1/2 cup warm water
Melted butter for brushing loaves
---
1
Place first 5 ingredients in a large bowl and mix thoroughly. Mix in half the flour to help cool.
---
2
Add yeast to 1/2 cup warm water. When flour mixture is lukewarm add yeast mixture and mix. Add remaining flour.
---
3
Turn out onto board dusted with flour and knead until elastic, about 5 minutes. WARNING - this stuff is REALLY STICKY!! Keep adding flour until you can handle dough easily, but do not knead too much, as the dough will become dense.
---
4
Lightly oil 3 large loaf pans. Divide dough into three equal parts and form into loaves in the pans. Let rise until 2.5 times original size.
---
5
Preheat oven to 350°. Bake 45 minutes, until golden and firm.
---
6
Brush tops of baked loaves with butter. Cool on racks before slicing, if you can wait that long.
---
---
notes Further notes from Suzy: The really hard part is the kneading because it is SOOOOO sticky (rather soupy)! I probably put in another cup of flour during the kneading process, but am reluctant to alter the recipe. I honor the tradition and the recipe.... But folks need to be warned.
Also - aside from tasting awesome straight out of the oven...this bread is fabulous when toasted! I recommend half inch slices and unsalted butter spread over. mmmmmmm - like cake but not as sweet....the molasses kicks it!
---