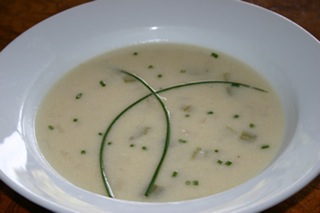 Mashed Potato Soup
An excellent way to use up leftovers from Thanksgiving. You can make this in any portion – just use equal amounts of liquid and mashed potatoes. You can also reduce the amount of butter if your potatoes are already quite rich. The soup stands well on its own, but is particularly tasty with the addition of ham, bacon or cheese.


Yield 8 servings

Ingredients

8 tablespoons butter, divided use
1 medium onion, diced
4 stalks celery, diced
2 cloves garlic, minced
1 sprig rosemary
4 cups turkey, vegetable or chicken stock, or milk, or combination of these
4 cups mashed potatoes
1 pinch of cayenne pepper
Salt and freshly ground pepper, to taste

Accompaniments - choose one or two of the following: diced ham, diced cooked bacon, sliced green onion, chopped parsley, snipped chives, shredded cheddar cheese
---
1
In a large pot over medium heat, melt 2 tablespoons butter. Add onions, celery, garlic and rosemary and cook gently until onions begin to get tender.
---
2
Add stock or milk and bring to boil, then lower heat. Remove rosemary sprig.
---
3
Stir in potatoes and remaining butter. Add cayenne, some salt and pepper and heat through. Taste, adjust seasoning and serve. Accompaniments may be added at this time or pass in small dishes at table, allowing guests to choose their accompaniments.
---
---