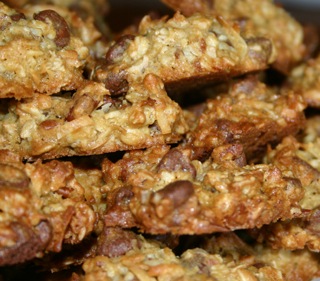 Oatmeal-Coconut-Chocolate Mounds
Chewy, satisfying and they have oats, so they must be good for you, right?


Yield 48 cookies

Ingredients

1 cup butter, softened
1 cup brown sugar, packed
2 eggs
1 1/2 teaspoons vanilla extract
1 cup flour
1/2 teaspoon baking soda
1/4 teaspoon salt
2 1/4 cups oats (not quick-cooking)
1 1/2 cups shredded coconut
2 cups semi-sweet chocolate chips
1/2 cup chopped pecans
---
1
Preheat oven to 350°F.
---
2
In a mixing bowl, beat butter and sugar together until fluffy. Add eggs and vanilla and stir until blended.
---
3
Whisk flour with baking soda and salt. Add flour mixture to butter mixture and blend thoroughly. Stir in oats, coconut, chocolate chips, and pecans.
---
4
Place well-rounded tablespoons of dough on ungreased cookie sheet, 2 inches apart. Bake 13-15 minutes, until lightly browned.
---
5
Cool on cookie sheet 5 minutes, then remove to plate and repeat.
---
---