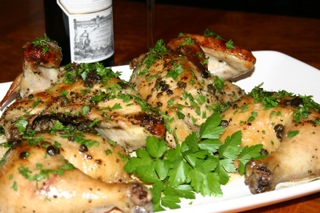 Oven Roasted Sweet and Savory Mediterranean Chicken
Chicken Marbella is a famous recipe from The Silver Palate Cookbook that calls for prunes and olives in its ingredients. This is a simpler adaptation that still provides the exotic sweet and savory notes of that dish.
Adapted from Chicken Marbella.

Yield 6 servings

Ingredients

1 chicken, 3.5 to 4 pounds, cut into quarters
1/4 cup olive oil
1/4 cup red wine vinegar
2 tablespoons dried oregano
1 tablespoon minced garlic
1/2 teaspoon salt
1 teaspoon freshly ground black pepper
2 tablespoons agave syrup (you can substitute white sugar or honey)
2 tablespoons capers with their juice
3 bay leaves
1/2 cup brown sugar
1/2 cup white wine
1/4 cup chopped parsley or cilantro, or a combination of the two
---
1
In a large bowl whisk together oil, vinegar, oregano, garlic, salt and pepper. Add capers and bay leaves and stir.
---
2
Place the chicken pieces in a bowl or zippered bag and pour the marinade over, stirring or smooshing around to coat the chicken pieces. Let marinate, refrigerated, several hours or overnight.
---
3
Preheat oven to 350°F. Arrange chicken in a single layer in a roasting pan and pour marinade over it. Sprinkle chicken pieces with brown sugar and pour white wine around them.
---
4
Bake for 50 minutes to 1 hour, basting frequently with the pan juices, until thigh pieces yield clear yellow juice when pricked with a fork.
---
5
Transfer chicken to a serving platter. Add some of the pan juices and sprinkle generously with parsley or cilantro. Serve remaining pan juices on the side, allowing guests to pour more on the chicken as desired.
---
---
notes This recipe is intended for bone-in chicken as described. Boneless, skinless breasts simply don't work well in this preparation.
---