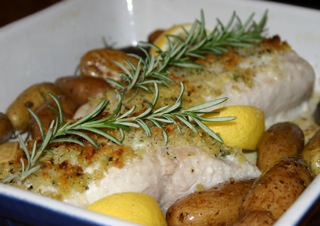 Mahi Mahi with Roasted Fingerling Potatoes and Rosemary
Quick enough for a weeknight meal, special enough for company, this aromatic dish is extraordinarily satisfying. Pair with steamed artichokes or a simple salad dressed with a balsamic vinaigrette.


Yield 2 servings

Ingredients

1/2 pound fingerling potatoes
2 larges cloves garlic, cut into chunks
4 tablespoons olive oil, divided use
Salt, to taste
Freshly ground black pepper, to taste
2 sprigs fresh rosemary, plus more for garnish
1/4 cup panko crumbs (or substitute plain bread crumbs)
1/2 teaspoon minced fresh rosemary
1 pound mahi-mahi fillets
1 tablespoon butter
1 lemon, cut lengthwise into 6 wedges
---
1
Preheat oven to 400°.
---
2
In a baking dish large enough to hold potatoes and fish in single layer, place potatoes and garlic. Drizzle 2 tablespoons of olive oil over, season with salt and pepper, then toss to coat potatoes. Lay rosemary sprigs over top. Place in oven and set timer for 20 minutes.
---
3
Meanwhile, in a small bowl, mix panko crumbs with minced rosemary. Season with a bit of salt and pepper, then toss with 2 tablespoons olive oil. Set aside.
---
4
Place fish skin side down on work surface. Squeeze two lemon wedges over fish. Dot with butter.
---
5
When timer sounds, remove potatoes from oven. Gently remove rosemary sprigs, turn potatoes over, then push to either side of the dish. Replace rosemary sprigs.
---
6
Lay fish fillets in center of pan, skin side down. Top with panko crumbs, then place in oven and roast for 10-15 minutes, until fish just begins to flake.
---
7
Remove from oven. Discard rosemary sprigs. Tuck remaining lemon wedges around fish, garnish with fresh rosemary sprigs and serve from baking dish.
---
---