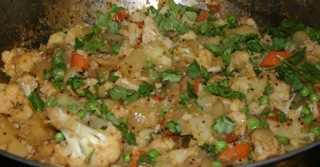 Aloo Gobi
Aloo Gobi is a wonderful vegetarian entrée where cauliflower is the key. It takes a bit longer to prepare than one might think, but you are layering the flavors as you go, adding spices at key times to certain ingredients to create a more complex flavor. There are as many variations on this dish as there are cooks, so feel free to add other veggies to suit your taste. This version is not too spicy, as I like to serve it with spicy accompaniments, such as coriander chutney. If you like it spicier, add more minced chile or some ground cayenne pepper. ~Joanna
(or Aloo Gobhi).

Yield 4 servings

Ingredients

1 tablespoon coconut oil, ghee, or vegetable oil
1 teaspoon black mustard seeds
1 teaspoon ground cumin
10 curry leaves, minced (optional)
1 large clove garlic, minced
1 medium onion, chopped
1 tablespoon minced jalapeno or other hot, fresh chile pepper
1 cup water, divided use
1/2 cup chopped tomato
1 pound russet potatoes, peeled and cut into three quarter-inch dice
1/3 cup diced carrot (quarter-inch dice)
5 cups cauliflower florets (1.25 to 1.5 pounds)
1 teaspoon garam masala (may substitute curry powder)
1 cup frozen peas
1/2 cup chopped cilantro
---
1
Place oil in a large, heavy pan over medium-high heat. Add mustard seed. When seeds turn white and begin to pop, add cumin, curry leaves, and garlic. Stir for one minute.
---
2
Add onion and chile pepper, lower heat to medium. Cook until onion is golden and tender, about 8 minutes.
---
3
Add tomatoes and 1/2 cup water. Cook 5 minutes.
---
4
Add potatoes and carrots. Cook until potato is tender, 10 to 15 minutes.
---
5
Add cauliflower, garam masala, and the remaining 1/2 cup water. Stir, turn heat to medium-low, and cover pan. Simmer for 20 minutes.
---
6
Stir in peas and cilantro and cook just until peas are heated through. Accompany with cooked basmati rice or naan.
---
---