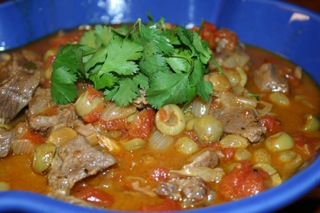 Lamb Tagine
Lamb in combination with olives and plump golden raisins in a savory stew is divine, good for any day. The origin of this dish is the foodiekitchen.com March 2010 Recipe Contest Winner. Alyssa Dazet, posted this on Valentines Day entitled ôLamb for Lovers" followed by a litany of love quotes.


Yield 4 servings

Ingredients

2 pounds lamb shoulder, cut into bite-size pieces
3 tablespoons olive oil
1 onion, diced
3 cloves garlic, smashed
1 teaspoon sea salt
1 teaspoon freshly ground black pepper
1 teaspoon sweet paprika
1 teaspoon cumin
1/2 cup green olives, sliced
1/2 cup golden raisins
1 cup diced tomatoes
1 cup chicken stock
Handful of fresh cilantro leaves
---
1
Pour olive oil into a skillet (or heat-proof tagine) on high heat. Add diced onions and sauté until they start to soften, about five minutes. Stir in garlic.
---
2
Add lamb pieces to the pan and sprinkle with salt and pepper. Cook lamb for about 1 minute, until just slightly browned on the outsides.
---
3
Add cumin, paprika, olives, raisins, and tomatoes into pan. Cook 1 to 2 minutes.
---
4
Add chicken stock. Cover and cook over low heat for 40 to 60 minutes until done.
---
5
Garnish with cilantro and serve.
---
---
notes This can also be baked at 350°F for 45 minutes in an oven-proof tagine.
---