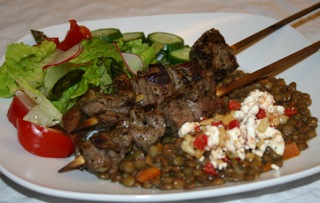 Mediterranean Lamb Skewers with Lentils and Feta
March 2010 Recipe Contest Winner Lisa Speer says "I created this dish because my husband loves lamb and Mediterranean flavors. I wanted to include creamy, salty feta and toasted pine nuts because we both enjoy their texture and flavor with lamb. I chose lentils because of their protein content (gotta watch those carbs every now and then!). Since I always add a finishing touch of vinegar to lentil soup, I thought vinegar would lend a welcome zing to the earthy lentils, and that all the flavors would work well together. We loved the result - now this is one of our favorite lamb meals!" Now it's one of our favorites, too!


Yield 4 servings

Ingredients

2 pounds lean lamb, cut into 1 1/2 inch cubes.
Salt and freshly ground black pepper
3/4 cup extra virgin olive oil, divided use
2 1/2 teaspoons ground cumin, divided use
1/2 teaspoon ground coriander
1/2 cup diced feta cheese
2 tablespoons toasted pine nuts
2 tablespoons finely chopped red bell pepper
2 teaspoons minced garlic, divided use
2 cups dried green lentils
6 cups chicken broth
1 cup finely chopped carrot
1/2 cup chopped onion, preferably sweet
1 teaspoon minced fresh ginger
1/4 cup red wine vinegar
---
1
Season lamb liberally with salt and pepper. Combine 2 tablespoons olive oil, 1 teaspoon cumin and coriander in a shallow dish. Add lamb; turn to coat. Allow to marinate 1 hour, turning occasionally.
---
2
In a small bowl, combine feta, pine nuts, bell pepper, 1/2 teaspoon garlic, and pepper to taste. Stir until mixed. Cover and chill 1 hour.
---
3
In a medium saucepan over medium-high heat, combine lentils, carrots, and broth; bring to boil. Reduce heat to medium-low; season liberally with salt and pepper. Simmer 30 minutes or until tender; drain and set aside.
---
4
Preheat broiler and thred lamb cubes onto 8 metal skewers.
---
5
In a large skillet over medium heat, heat oil and add onions. Season with salt and pepper and cook until soft. Add remaining cumin, garlic, ginger, and the lentils. Stir gently for a few minutes until heated through.
---
6
In a small bowl, whisk vinegar and remaining olive oil together and add to lentil mixture. Stir gently; taste andadjust seasonings. Cover and keep warm.
---
7
Broil lamb about 4 minutes per side or to desired degree of doneness.
---
8
Divide lentils between 4 plates; sprinkle with feta mixture. Place 2 lamb skewers per plate alongside lentils.
---
---