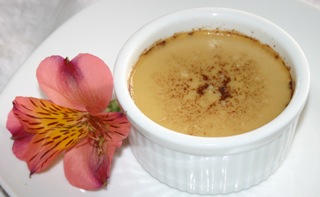 Maple Vanilla Soymilk Custard
March 2010 Recipe Contest Winner Jan Valdez says "I was inspired to create a dessert using soymilk. I know there are a lot of people that can't have dairy due to dietary restrictions, as well as those who just prefer the taste of soymilk over regular milk. So I decided to make a sweet and creamy custard, similar to a flan or creme brulee. The addition of maple syrup, vanilla, and cinnamon really brings the whole dessert together." We agree.


Yield 6 servings

Ingredients

2 cups vanilla soymilk
3 eggs
6 tablespoons pure maple syrup
2 teaspoons vanilla extract
 1/4 teaspoon ground cinnamon
---
1
Preheat oven to 350 degrees F.
---
2
Mix all ingredients in a bowl with a whisk. Don't overwhisk the eggs, or there will be bubbles in the custard.
---
3
Pour the mixture into six Â1/2 cup ramekins. Put the ramekins in a large baking dish and fill dish with boiling water halfway up the ramekins.
---
4
Bake for 30 minutes or until the custard is set. Can be served warm or cold.
---
---
notes Almond, ice, or even cow's milk can replace soy milk in this recipe.
---