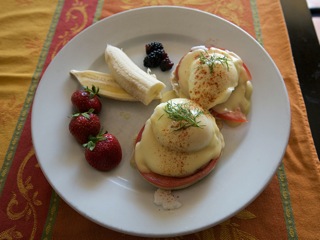 Eggs Benedict
Eggs Benedict is a quintessential breakfast dish. The method here is to use the oven broiler as your toaster, then turn it off to keep muffins and ham warm. The dish goes well with fresh-squeezed orange juice. Decorate the plate with fresh fruit.


Yield 4 servings

Ingredients

1 recipe Blender Hollandaise
4 English muffins, split in halves
8 slices ham or Canadian bacon (also known as back bacon)
8 eggs
8 slices tomato (optional)

garnish:
dash of paprika
---
1
Set oven rack to broil position. Preheat broiler. Place English muffin halves on a baking sheet. Toast under broiler element, about 3 to 4 minutes until golden.
---
2
Turn oven off. Remove baking sheet. Scoot muffins to the side of the baking sheet. Place ham slices on baking sheet. Place baking sheet in oven to keep warm while making your Hollandaise and poaching your eggs.
---
3
Make Hollandaise according to recipe. Keep warm.
---
4
Poach eggs: in a large, deep pan, heat several inches of water to simmering. Break eggs into a shallow bowl. Using a large spoon, slowly stir the water, speeding up to create a vortex in the center. Gently slip eggs from bowl into water. Cook until whites are set, yolks still runny, about 4 minutes.
---
5
Remove baking sheet. Place two muffin halves, side by side, on each plate. Lay on tomato slices (if using). Top with ham slice. Using a slotted spoon, remove eggs from water, gently placing one egg on each muffin half.
---
6
Spoon Hollandaise over all, then sprinkle with a bit of paprika. Serve directly.
---
---
notes You can see a good step-by-step with pictures of processing the eggs on my blogpost
here
.
Being curious about the origins of Eggs Benedict, we discovered differing accounts on
Wikipedia
. It is likely American, but it may have been created by an American who spent time in France.
---