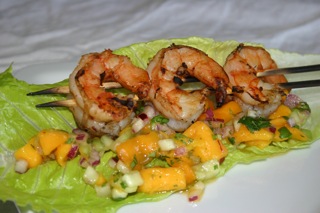 Fiery Shrimp in Lettuce Leaves
Amy Angelo's yummy lettuce wraps were winners in a Foodie Kitchen Recipe Contest, and after one bite, you'll understand why. Amy is a mother of two children and 4 special needs Boston Terriers, so her busy life calls for quick meals. Amy says, "Sweet, spicy, crunchy, fresh-tasting with a hint of the grill - my idea of perfection! It's a great summer recipe for entertaining (leaves you time to spend with your guests), or a great go to quick fix meal on a weeknight. My friends and family love to make their own lettuce wraps, and enjoy knowing that they are eating a healthy yet flavorful meal."


Yield 4 servings

Ingredients

1 pound fresh raw shrimp (shelled and deveined)
1 1/2 chipotle peppers, in adobo sauce, finely chopped
2 tablespoons chopped or minced garlic (approximately 6 large cloves)
1/4 teaspoon salt
1/2 teaspoon freshly ground black pepper

Mango Salsa
1 1/2 cup diced fresh mango
1/2 medium red onion, finely chopped
1 small cucumber, peeled and diced
4 tablespoons chopped fresh cilantro leaves
4 tablespoons fresh lime juice (approximately juice of 1 medium lime)
1 teaspoon minced jalapeno pepper (optional)

8 large lettuce leaves (romaine or iceberg), washed and dried

Special Equipment:
4 bamboo or metal skewers
---
1
If using bamboo skewers, place in water to soak.
---
2
Preheat grill.
---
3
Toss shrimp in a bowl with chipotle peppers, garlic, salt and pepper. Set aside.
---
4
Make salsa: In medium bowl, mix together mango, red onion, cucumber, cilantro, lime juice, and jalapeno (if using). Set aside.
---
5
Skewer shrimp without overcrowding (approx. 4 shrimp per skewer)
---
6
Grill shrimp over medium heat for about 4 minutes or until they are pink and opaque.
---
7
Put a few tablespoons of mango salsa into each lettuce leaf. Place the skewered shrimp on top of each lettuce leaf. To remove shrimp from skewer, hold the lettuce leaf in one hand while pulling the skewer out with the other. Roll up the lettuce leaf with salsa and shrimp. Serve warm.
---
---