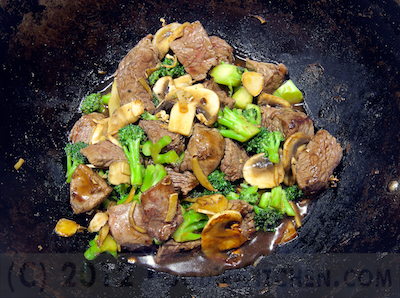 Ginger Beef with Steamed Rice & Broccoli
I added vegetables to this fast, one-dish meal. You can find bottles of "oyster-flavored" sauce in most major markets or Asian grocery stores. These flavors go well with Stir-fried Japanese Eggplant. ~Joanna
Fast, simple, flavorful dish.

Yield 4 servings

Ingredients

1 cup chopped broccoli (bite-sized pieces, boiled until crips-tender.
1 pound top sirloin, cut into three-quarter-inch cubes; fat trimmed and reserved
2 teaspoons vegetable oil (if needed)
1/3 cup finely julienned ginger
1/2 cup oyster sauce
1/2 cup sliced mushrooms
3 cups steamed rice, for serving
---
1
In a wok over low heat, render fat trimmings to oil, about 10 minutes. Toss cracklings. (If the fat has not rendered at least a tablespoon of oil, you may add additional vegetable oil. If you prefer not to use beef fat, then replace it with 1 tablespoon of vegetable oil.)
---
2
On medium heat, add ginger and stir for one minute to flavor oil, then move to the side of the wok.
---
3
Add beef and sear on all sides, about 1 minute.
---
4
Pour in half the oyster sauce, stir to coat beef and cook for 1 minute more.
---
5
Add mushrooms and broccoli. Stir-fry 1 minute.
---
6
Add remaining oyster sauce. Stir-fry 3-4 more minutes for medium-rare beef.
---
7
Serve over rice.
---
---